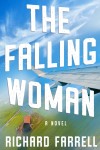 One of our books makes INDIE NEXT PICK of American Booksellers Association.
The ABA's INDIE NEXT LIST of the 10 NEW WRITERS TO WATCH includes Rich Farrell's brilliant debut novel.
THE FALLING WOMAN, which is scheduled to be released next May by Algonquin Books.
We congratulate Rich on this wonderful and auspicious beginning for a first time novelist. The list is selected from all fiction and nonfiction books being published from January through May 2020, and comes with the invaluable support of the influential independent booksellers of America.