The State Feature
Carved from mountains
For writer Ron Rash, place is character and language is magic
By CLAUDIA SMITH BRINSON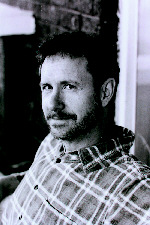 Ron Rash's grandfather couldn't read or write.
Rash — the author of three collections of poetry, two collections of short stories and three novels — traces his yen to write to the grandfather who could not.
The link is not to what his grandfather could not do but what he could.
In an essay called "The Importance of Place," Rash writes: "When I was 5 years old, one of the most remarkable moments of my life occurred: My grandfather read to me. It was a warm, summer evening and my grandfather, still dressed in his work clothes, was smoking a Camel cigarette as he lingered at the kitchen table after a hard day's work."
Rash asked his grandfather to read "The Cat in the Hat" and the story he heard was different from the one his mother read — his grandfather made it up.
Each time his grandfather opened the book, the story changed, and this mutability became a marker, a moment of becoming. In the essay, Rash writes, "My grandfather could not teach me how to read, but he had taught me how to use my imagination."
This is a pivotal story for Rash, one he returns to often.
"I loved that language could be magical," he says.
Place and time and change — the Carolinas' mills and mountains, those gone, those here and their constant influence upon each other; limits and their transcendence — these are Rash's subjects.
Some of his magic comes from the tales of home he tells. Some of his magic comes from words themselves and the love a poet has for words, especially for the vocabulary of home.
DOWN FROM THE MOUNTAINS

Rash's grandmother began work in a textile mill at 14, had her son James at 15. She knew she would not escape the mills but wanted better for her only child.
James Rash came down from the mountains in 1950, from Buncombe County, N.C. Norma Sue Holder had done the same a year earlier, leaving Watauga County, N.C. The two took work at Eureka, a Chester textile mill. They met; they married.
James Rash would finish his shift, walk a mile and a half to catch a bus and travel to Columbia and school. He earned a teaching degree and, eventually, a master's in education. When Norma Sue Rash was in her 40s, her three children almost grown, she earned a teaching degree, too.
Ron Rash, their oldest child, has kept close to their mountains.
He lives half of each week in Clemson and crosses the state line each Tuesday to teach three days at Western Carolina University in Cullowhee. There, he is the first John A. Parris Jr. and Dorothy Luxton Parris Distinguished Professor in Appalachian Cultural Studies.
Rash writes about home: Eureka Mill, Jocassee, Dismal Gorge, Middlefork Creek, the Keowee. Visions arise, haunt him, become a poem or a story or, if demanding enough, a novel. You would know Rash not by the what or when of his writing; you would know him by the where.
Each work begins and ends in the foothills and mountains of the Carolinas, among the people who, like his kin, have called the place home since the 1700s.
His first novel, "One Foot in Eden" (2002), tells of a murder in Jocassee Valley before it was flooded. His second, "Saints at the River" (2004), pits parents of a drowned child against environmentalists at the Tamassee River, a fictional substitute for the Chattooga. The book echoes real events — Rash says he researched several before writing.
His latest novel, "The World Made Straight," published in April, moves a little north to Madison County, N.C., and a Civil War massacre at Shelton Laurel that may have involved his own great-great-great-great-grandfather Joshua Candler, a country doctor and Confederate captain.
These obsessions become award-winning obsessions in Rash's hands:
| | |
| --- | --- |
| | The Novella Press Novel Award in 2002. |
| | The Appalachian Book of the Year Award (2003). |
| | The Southeast Booksellers Association's Award for fiction |
| | The Southern Book Critics Circle Award for fiction (2005). |
IN LOVE WITH WORDS, BUT NOT WITH SCHOOL
Rash's love of language made him a reader but not, initially, a scholar. He wasn't impressed with high school in Boiling Springs, N.C., where the family settled while his father taught at Gardner-Webb University.
"I read — just not what I was assigned," Rash says. "I wandered the woods. I was an athlete," excelling at the 800-meter run.
He wasn't a bad student, he was "atrocious," says younger brother Tom.
"He was in classes for individuals not going to college. He would sit with people reading basic stuff, and he would be in the back reading 'Moby Dick.'
"He wasn't interested in school; he was interested in reading. He read very intensely and very intensively, and he did the same thing with running," says Tom Rash, who directs a program at Asheville-Buncombe Technical Community College that serves adults with brain injuries.
Summers, Ron Rash would stay at his grandmother's farm near Boone and roam. She would fix him a lunch, and he would take off to the woods, to fish or explore.
"It was good training to be a writer, the solitude," he says.
"And a lot of other relatives would come and visit and on Sunday go to church. I would hear the way they used the language, the way they showed the beauty in it."
So characters in Rash's novels are "stubborn as a white oak stump." They claim hearth flames are "the devil's tongue reaching up out of hell."
A sheriff takes "a look-see," walks "a ways," visits a country store with "everything from Eagle Claw fish hooks to Goody headache powders, a big jar on the counter, pickled eggs in the murky brine pressed against the glass like huge eyeballs."
A good spot for trout fishing is "thick as gnats with speckleds" a fence is draped with dead black snakes, to bring rain.
Rash says, "One aspect of art is to preserve, to keep alive what has been forgotten, lost." He mentions an uncle, a tobacco farmer whose children chose other livelihoods.
He mentions Jocassee, its farmland flooded in the 1960s.
"Even as a kid, I remember going over the lake and being haunted by the thought people had lived there. On a clear day, you can see roads."
He notes: "I have a horror of oblivion. I hope my novels keep a place, a people, a culture alive. I'm compelled to do that in writing."
AND THEN CAME SEAMUS HEANEY …
In college, Rash discovered Seamus Heaney, an Irish poet, a Nobel Prize winner.
"I saw him writing about a world similar to mine," Rash says. "I remember reading his early poems and being blown away."
He flows right into a Heaney poem, "Mid-Term Break," which tells of the death of a brother:
No gaudy scars, the bumper knocked him clear.
A four foot box, a foot for every year.
"That poem," Rash says. "Once I read that poem … "

Rash earned a bachelor's degree from Gardner-Webb, where his father taught, and a master's from Clemson.
He taught for two years at Tamassee-Salem High School in Oconee County, then 17 years at Tri-County Technical College in Pendleton. He is in his third year at Western Carolina, where he helps bring artists to its Mountain Heritage Center and teaches a writing course each semester.
On a recent brilliant spring day, Rash walks into a large conference room with upholstered chairs, a sofa and a collage homage to Shakespeare at its far end.
"Why are you huddled in the dark?" he teases his students. "Did you need me to bring light?"
The class is a workshop, with students bringing in short stories for critique. One is under the gun, and the issue is whether it's important to get the little things right.
"We love to learn something true, even when we're reading fiction," Rash says.
Fifty-two and still runner lean, barely bearded, his face a bit worn, Rash is a restrained, subtle person one on one or in class. He is a listener who holds his cards close to his chest. When he does speak, he is often eloquent.
He tells the students, "When you get small things right, you allow the reader to say, 'Yeah, this is right. This is true,' and you allow the reader to get deeper into the dream that is a book."

He also is a very nice guy.
"He radiates goodness," says Elizabeth Addison, chair of the English department. "He has that quality I associate with the true Christian. It comes through in his books.
"And he's so quiet and unassuming. Even though he has a unique position, everyone appreciates what he does and who he is, not just because he is so good, but because he doesn't crow about it."
A MASSACRE BRINGS REDEMPTION
A weeknight reading at City Lights, an independent bookstore in nearby Sylva, fills up. Extra folding chairs are opened. Readers of Rash's work — whether poems, stories or novels — tend to become loyalists.
As a Southern Baptist, a fair man who does not judge by class or education or position, a man intrigued by familial ties to the Civil War, Rash connects well to Southerners, who are, after all, his people.
He reads from an essay on "The World Made Straight," in which he confesses to playing Civil War, equipped with a gray infantry cap ordered from a comic book and a Daisy air rifle.
He finds, though, a complex family history: Joshua Candler and brother Zachary served in the Confederate Army; Martin Rash and cousin Joe Black served in the Union Army.
And he finds out that in January 1863, Confederate soldiers rounded up 15 neighbors, including 13-year-old David Shelton, and marched them from Shelton Laurel up Knoxville Road. Their commanding officer ordered soldiers to kill the prisoners, which they did.
"I have known since my twenties that I would eventually write about what is today known as the Shelton Laurel Massacre," Rash tells his audience.
A novel emerged from his questions. Did Joshua Candler, "a man who had taken an oath as a physician to heal," participate? What of the child's last moments? "He is shot in both arms, his father and three brothers dead beside him."

What Rash has fashioned — true to the history he knows but also true to himself — is a novel of redemption. He brings together descendants of Candlers and Sheltons — a teacher turned drug dealer, a teen turned out of his home — and addresses "the possibility of wrongs set straight."
AND WHAT OF THE WATER?
Rash uses the word "bleak" to describe his novels. In the first is a murder; in the second, death by drowning; in his latest, multiple deaths in the past and present.
And always there is a river.
He jokes: "A friend once said, 'Any time a character in your books gets near water, he or she is a goner.' "
He's not sure why water plays such a key role, in plot and metaphor.
"I could give a trite answer and say, 'I'm Southern Baptist, and I was immersed and it all began there.'" Then, he expands the answer to call water "a potent symbol of death and resurrection" and, in Celtic folklore, a conduit between the living and dead.
As to all the violence by the water, Rash points to lodestar Flannery O'Connor, who believed life-and-death moments revealed character. Rash says: "When a life is on the line, you get a sense of what a person really is; in those moments, essence is revealed. I defer to Ms. O'Connor on that."
Rash doesn't want to look too closely.
"I never do these things consciously," he says. He follows the visions: a man in a drought-burned field, a child's face under water, David Shelton begging for his life.
"The more you do it, the more mysterious it becomes."
Rash is finishing his next novel, about N.C. timber barons, as well as a collection of poems. He expects to publish a new collection of stories in 2007.
Anthony Hecht, a critic and Pulitzer Prize-winning poet, wrote in an introduction to "Among the Believers," a poetry collection published in 2000: "But what seems to me the supreme achievement in Mr. Rash's work inheres in a quality derived partly from his remarkable skill, partly from the richness of his regional past, largely from his dramatic instincts, stoic voice and deep humanity …"

Rash's agent, Marly Rusoff of Marly Rusoff and Associates, says: "We believe he always has been brilliant, and the rest of the world is going to know that soon." Rusoff also represents S.C. writers Cassandra King and Pat Conroy.
Meanwhile, Rash sticks to hard work and awe for the mystery of it all. He tells his students: "When you're reading, you're looking at little splotches of ink on a page, and it can make you cry. That's amazing to me: Little splotches of ink break your heart."
Precision
Rash writes with a poet's exactness, whether he is writing poetry, a short story or a novel:
First Memory
Dragonflies dip, rise. Their backs
catch light, purple like church glass.
Gray barn planks balance on stilts,
walk toward the pond's deep end.
A green smell simmers shallows,
where tadpoles flow like black tears.
Minnows lengthen their shadows.
Something unseen stirs in the reeds.
He held his left hand out the window, turning it like a weathervane as air buffeted his palm. He didn't need to check his watch to know it was past noon now, could feel the early-afternoon air clabbering up like butter. Tail end of the dog days, the worst time of the year to be working in a field.
— "The World Made Straight"
Place
Place is as important to plot as character in Rash's work and is always described thoroughly and in the language of that place:

I stepped pretty lively the way back down to the river for that old woman had gave me a pail-full of hope when I'd had but a dry well before. It was the shank of evening. The sky was gray and sleety looking, but the world somehow seemed brighter. I took more notice at the liveness you could find if you kept your eyes searching for it, not just the mistletoe in the big oaks but a hemlock or white pine deep off in the woods, the Christmas ferns and hairy-cat moss on Wolf Creek's banks and the ground pine poking out from dead leaves.
— "One Foot in Eden"
You turn right at the stop sign, and suddenly mountains leap up as though they'd been crouching along the four-lane waiting for the car to turn. … The two-lane road coils upward like a black snake climbing a tree. Soon you notice fewer homes and mailboxes and more cornfields and barbed wire and woods.
— "Saints at the River"
Violence
Rash is interested in the violence within communities, how and why people harm those they know. Death always has meaning and consequence in his novels.
Holland stumbled backwards, smoke wisping out of his chest like his heart was a fire that had been doused. The baby kicked hard inside me and I had no want to ponder that portent. I ran over to see how bad it was and saw Holland's face gone white as August cotton balls.
— "One Foot in Eden"
The knife blade made a clicking sound as it locked into place. Travis squeezed his eyes shut. For a few moments the only sound was the gurgle of the creek, and he remembered how it was the speckled trout that had brought him here. He remembered how you could not see the orange fins and red flank spots but only the dark backs in the rippling water. And how it was only when they lay gasping on the green bank moss that you realized how bright and pretty they were.
— "The World Made Straight"
Water
Water is beginning and end and transition in Rash's novels. The living and the dead meet at water, and often communicate.
As Luke waded out of the water, his chest was heaving. … The look on his face was more than just serene, it was beatific, like the faces of the raptured in Renaissance paintings …
"It was like eternity," Luke had said as we'd made our way back up to Bear Sluice. "That's what the Celts believed — that water was a conduit to the next world. Maybe they were right."
— "Saints at the River"
After a while water gathered beneath him, lifting the weight from his body, lifting him away from the pain as well. The water made a soothing sound as it moved around and under, and he was so glad he wouldn't have to crawl out of the gorge after all, because he knew the water would take care of that, would carry him all the way down to Marshall and not only there but then into the French Broad and on west to the Ohio and the Mississippi. …
— "The World Made Straight"