One Foot in Eden began with a single image: a young farmer standing in a field of dying crops. I began a poem with these details, but soon realized what I wanted to write, what that farmer wanted me to write, could not be contained in a poem. I began a short story narrated by this man, but after two pages I knew what he had to say was more than a short story could provide. I knew that if I were to give him and his story their due I would have to write a novel.
Since the longest story I had ever written was eighteen pages, and the vast majority of my recent writings had been poems of less than a page, I felt like a sprinter being asked to run a marathon.
I didn't want to write a novel; I didn't even believe I could write a novel. All I knew was that I had to try, because for some inexplicable reason I owed it to that man in the field.
Other characters soon rose up in my mind and announced themselves: first the farmer's wife, then a sheriff, and finally, a son. All had their version of the story to tell.
I made other, more conscious, decisions, the most challenging being how to give my characters distinctly Appalachian voices without lapsing into a "Snuffy Smith" kind of dialect. I decided to use contractions as sparingly as possible. Nonstandard verbs were limited as well. I did use a number of distinctly Appalachian words, almost all of which I'd heard growing up in western North Carolina.
Appalachian speech cadences were what I emphasized most, letting cadence, more than anything else, center my characters' speech in a particular time and place. I also did extensive research on the Jocassee Valley, the setting of my novel, including a rather unsettling personal interview with a mortician who had helped remove bodies from graves when the valley was flooded in 1972.
However, this was all later. The man in the field came first – standing there still as a scarecrow, waiting, waiting for me to tell his story.
About the Author
Ron Rash knows whereof he speaks. His family has called the southern Appalachian Mountains home since the mid-1700s, and it is this region that weaves its way into his haunting, lyrical writing.
Ron Rash is the 2002 winner of the Novello Literary Award. His novel, One Foot in Eden, was chosen for publication from more than 100 manuscripts. The book impressed the selection committee, not only with its captivating story line, but also because Rash's voice lends such authenticity to the story's characters and setting.
"I first started writing about these characters in a book of poetry called Raising the Dead," said Rash. "I realized that they would not leave me alone until I completely fleshed them out. They deserved a novel, and I feel so fortunate to see them come to life in this book."
Rash grew up in Boiling Springs, N.C., in the foothills of the Blue Ridge chain of the Appalachian Mountains. He graduated from Gardner-Webb College and Clemson University. Currently, he lives in upstate South Carolina. He is a professor of English at Tri-County Technical College in Pendleton, S.C., and he teaches poetry writing in the Queens College M.F.A. Program in Charlotte, N.C.
In 1987, Rash's fiction won a General Electric Younger Writers Award, and in 1994 he was awarded an NEA Poetry Fellowship. His poetry and fiction have appeared in the Yale Review, Oxford American, Southern Review, Shenandoah and Poetry, among others.
He is the author of seven previous books: three books of poetry, three short story collections and a children's book. One Foot in Eden is his first novel.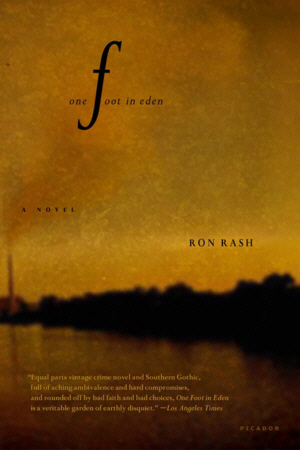 More About This Book
Buy This Book