Irish Times (UK) – August 25, 2012
This slim collection netted Ron Rash the 2010 Frank O'Connor Short Story Award and earned him comparisons to Raymond Carver, John Steinbeck, William Trevor and Cormac McCarthy.
Sceptical? Don't be. In Burning Bright, Rash calmly sets about creating a literary world that is entirely his own. The stories are set in his home territory of rural Appalachia. The situations range from the thematically familiar – a woman suspects that her husband may be an arsonist; a farmer and his wife find an intruder on their land – to the heartbreakingly singular, such as The Ascent, in which a boy whose parents have been destroyed by poverty and addiction keeps vigil in a crashed plane with the bodies of two frozen strangers. The language is precise, the pace stately; Rash began his writing life as a poet, and it shows. Every word counts. Every story glitters with beauty and malevolence. If you haven't read Rash yet, you have a treat in store.
— Arminta Wallace
Weekend Australian – October 9, 2011
"Rash would not be upset by being called a southern regional writer (as William Faulkner was, or James Dickey), one who works the same narrow moral and physical terrain, whose canvas is intimate rather than expansive. He has powers of reflection, imaginative daring, inwardness with an agrarian setting that seems always to have been imperiled…
Renewing his art through remembered idiomatic speech, the cadences of the Bible and hymns from church, folkloric tales, Rash is a prevailing master of language and one in venerable American tradition."
— Peter Pierce, chairman of the fiction judging panel for the Prime Minister's Literary Awards.
Qantas The Australia Way – September 1, 2011
"In these stories of the Appalachian backwoods, rampant meth addiction is ravaging the social structure with all the savagery of a starving wolf. People without much are losing it all: a woman hopes her new husband is not an arsonist; a pawnshop owner deals with the ruin of his brother's family; a road worker plunders Civil War graves. Stripped-back-
to-barebones American tales in the tradition of John Steinbeck, Cormark McCarthy and Raymond Carver. Good company, indeed."
The Independent (UK) – August 21,2011
"The US poet and author Ron Rash is probably not a writer who appears on the radars of most British readers, but hopefully that will change with this exquisitely crafted collection of short stories… Burning Bright is delivered with such a surety of hand and such a considered distillation of the human spirit as to warrant the book jacket's comparisons to Carver and Faulkner. Highlighting the continuity of the human struggle over the ages, Rash has used a focused spotlight to illuminate a wider truth about society and our place within it."
The Times (UK) – Saturday August 20, 2011
In the title story of this superb collection, Marcie is a widow in her sixties. When her husband died and the local help fell away, she endured incredible loneliness at the end of a five-mile dirt track, until the church recommended a "handyman", Carl, who could help out on the farm. This silent man from nowhere marries Marcie, but remains mysterious – and there's an arsonist in the neighborhood. Isolation in the middle of a community is also the theme of the magnificent Back of Beyond. Parson keeps a pawnshop out in the boonies. "By noon he'd had 20 customers and almost all were meth addicts" One of these is his nephew. Parson, who has "inoculated" himself against family feelings, sets about the thankless task of saving his brother and sister-in-law but do they even want to be saved? Rash can create a character in a single sentence; this is the great American short story at its best.
Weekend Press (NZ) – August 20, 2011
"These are stunning stories, deceptively simple, with characters who are worn down, or out, with the business of getting through life… All these people emerge from the pages to glimmer and flare briefly before moving aside to make room for the next. None of the stories are especially long but seem connected in ways uncommon in books of short stories. This has little to do with the characters, or the subject matter, but the strong sense of place that thrums below the surface."
— Joan Curry
Stay In (Sydney, AU) – August 9, 2011
"One pretty average yarn can't mar this otherwise stunning story collection. Rash's deceptively straightforward narratives take us into the sometimes violent lives of the American South's working poor, its meth addicts and struggling farmers, illuminating their despair and feeble hopes. Rash's cool delivery belies a powerful emotional core.
Moving, disturbing, and highly recommended."
Canberra Times (AU) – July 30, 2011
No Escape And Nowhere To Hide
For Ron Rash, a short story is less a synopsis than a synthesis, a short-form distillation of a moment that matters, written with the concise precision demanded of poetry but opening up other people's worlds in the way which novels do. His stories are really epiphanies, studies of the defining occasion when character is exposed and fate determined…
So, too, is every short story Anton Chekhov wrote, almost all of William Trevor's output, and much of Ernest Hemmingway's. Short stories may b e novels as carpentry is to architecture, but all of Rash's stories are crafted, jointed and dovetailed in quite beautiful, striking ways… All of Rash's stories are crafted, jointed, and dovetailed in quite beautiful, striking ways."
— Mark Thomas
The Irish Times – July 30, 2011
An uncompromising celebration of the short story
THERE IS a young child so hungry she takes to sucking the eggs from her neighbour's hen house, and continues doing so, even after her father killed the family dog that had been wrongly blamed for the crime. Another man is so poor he agrees to dig up long-buried soldiers in the hope of finding confederate memorabilia dating back to the US Civil War. Things go badly wrong and the bully who had devised the idea up and dies, felled by the effort of grabbing a sword from a corpse's grip. The old watchman who had been guarding the graveyard – obviously not all that well – remarks to the narrator that he feels their secret is safe. "Far as I can tell you don't say nothing unless it's yanked out of you like a tooth." In another story, a boy unintentionally helps pay for the drugs that are destroying his parents by taking the ring from the hand of a woman who died when her light aircraft crashed nearby. The gifted US poet and novelist Ron Rash allows fate to take full flight in this astonishing, diverse collection.
Burning Bright, the title story, with its echoes of Steinbeck, sees Marcie, a widow who has unexpectedly married her handyman, mainly because of social pressure, wondering who is starting all the fires, all the more serious because of the drought conditions. Marcie is a self-protecting kind of individual. "When her first husband, Arthur, had died two falls earlier of a heart attack, the men in the church had come the following week and felled a white oak on the ridge. They'd cut it into firewood and stacked it on her porch. Their doing so had been more an act of homage to Arthur than of concern for her, or so Marcie realised the following September when the men did not come." Carl is taciturn and strange, but a terrific handyman and, as Marcie comes to feel, her property. So she feels it is enough to pray for rain.
Rash possesses a realist's vision that resounds with truth yet never falters into the heavy handed righteousness of tone that at times burdens the prose of Cormac McCarthy with whom he has been compared. Readers of Rash's novel Serena (2008) will know what to expect and will be well rewarded here. Rash tells great stories, raw and powerful, but he is above all, an instinctive writer. These narratives, whether told in his laconic first person, or in a detached third-person voice, are well served by his flawless use of language. Every word carries meaning and intent. His dialogue is convincing. There is a sense of Daniel Woodrell's majestic novel Winter's Bone (2006) and most emphatically of all, the modified Southern cadences of Richard Bausch. Literary prizes incite all manner of rhetoric and riot but in winning the 2010 Frank O'Connor International Short Story Award with this book, now published for the first time in Europe, Rash not only endorsed the quality of the competition, the judges honoured the short story form.
It is impossible to select the finest of Rash's stories, so good are they all, and so wide-ranging. He understands the way life works, the weird shifts and shimmies, the side steps, the inevitability. In Into the Gorge , a place seems to determine a family's history. "His great-aunt had been born on this land, lived on it eight decades, and knew it as well as she knew her husband and children . . . and could tell you to the week when the first dogwood blossom would brighten the ridge . . . Then her mind had wandered into a place she could not follow, taking with it all the people she knew, their names and connections." Jesse remembers all of this and more. He had been a young boy when she had wandered off to die alone in the gorge. The years have passed and now Jesse is old and not expecting to be caught by a park ranger in the act of harvesting his long dead father's crop of ginseng. "Can't you forget this," Jesse said. "It ain't like I was growing marijuana. There's plenty that do in this park." The ranger sneers at his captive and Jesse fights back, then fate and family history take over.
Memories burn deep images in the mind and a soldier returning home from war recalls a man that he killed and whose body he had then knelt by while performing a ritual that he had needed as much as the dead man had. Elsewhere during another war, a century earlier, a young woman while waiting for her husband to return, is surprised by the enemy in the form of an older man she had met while she was a child. He wants the horse she has kept hidden, she offers to trade herself instead. Personal anarchy sustains her vigil.
In The Woman Who Believed in Jaguars, Ruth, alone and middle-aged, decides to investigate something she had seen in a schoolbook when she was a child. She contacts the local zoo and asks the director if jaguars once roamed South Carolina. On her way there she thinks she has spotted a missing child. Having caused some chaos she then meets the director who reads her a moving account about the loyalty animals, in this case birds, display to each other.
The short story, particularly the American short story, as high art is celebrated throughout this uncompromising, candid collection that does indeed burn bright in every way.
— Eileen Battersby is Literary Correspondent of The Irish Times
Miami Herald – Sunday March 14, 2010
[Rash] has written a memorable, if often brutal, elegy for a vanishing way of life.
The New York Times – March 8, 2010
"Ron Rash was the seasoned author of nine books of fiction and poetry before his 10th, the stunning 2008 Serena, established him as one of the best American novelists of his day. With its stark Appalachian setting, piercing language and coolly ferocious title character, Serena was a big book filled with bleakly beautiful details. Mr. Rash's artistry was blinding enough to eclipse his craftsmanship. But the skill with which his tales are constructed is more apparent in Burning Bright… these paired down short stories make it much easier to see how expertly Mr. Rash fine-tunes his work… elegantly sophisticated work… enormously effective… another instance of Mr. Rash's tactical precision… remarkable stories… Mr. Rash certainly knows how to rivet attention…"
— Janet Maslin
Bookpage – March 1, 2010
"[Rash's stories] flow so seamlessly into each other that the reader is tempted to devour them all in one sitting like a novel. But doing so would mean losing the power of each individual story—and that power is formidable, well worth slowing down for… tight, hauntingly melancholic studies… set against the lush, atmospheric backdrop of Appalachia that Rash has so firmly mastered… exquisitely effective… All 12 stories are worthy, a rarity in many short-story collections, and all call for a slow, careful re-read. Those readers who normally eschew short stories for lacking character development or depth will want to take a chance on Burning Bright, and those who embrace the art form already will want Rash's newest offering in their permanent collection."
— Kristy Kiernan
Library Journal – October 15, 2009
The stories in Rash's (Serena) aptly titled new collection burn themselves on the memory in much the same way as the photographs Walker Evans took of Southern sharecroppers in the 1930s that were later collected in Let Us Now Praise Famous Men. Rash's spare narratives are set primarily in today's Appalachia, with families decimated by poverty, drugs, and every other discernible kind of heartache. A pawnshop owner knows all the local addicts by virtue of the junk they bring in for money and becomes an unlikely hero when one of these deals uncovers a family member's disgrace. A husband who no longer knows how to talk to his wife elicits our sympathy even after he communicates his message by slashing her tires. A neglected boy with meth-addict parents finds treasure in a plane wreck he happens upon when his wanderings lead him into Smoky Mountains National Park.
Rash, who has authored not only fiction but also three volumes of poetry, is a master craftsman who pares down language to its essential elements in these starkly beautiful stories.
— Sue Russell, Current Science, Inc., Philadelphia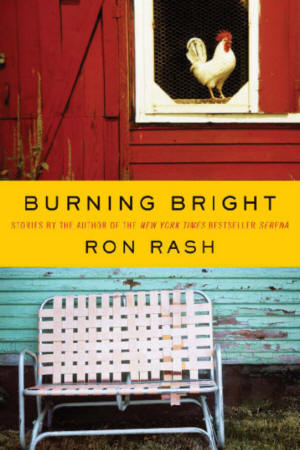 Buy This Book
<!- View not found ->