Metro (UK – London) – April 18, 2012
"Ron Rash's excellent Burning Bright was a sparsely beautiful collection of takes about desolate lives in the rural US that suckered the reader into believing it was set during the Great Depression – until part-way through, Rash revealed these stories of abandoned rural poor were all located in the present… …A hard, cruel, Cormac McCarthy-esque fable with political undertones, much of THE COVE'S not inconsiderable magic comes from Rash's descriptions of the countryside of the American South. In his capable hands, North Carolina sounds impossibly exotic and menacingly alive, a character in its own right."
Entertainment Weekly – "A" review- April 10, 2012
TALK OF THE TOWN Set against the backdrop of World War I, The Cove blends tones of the South within a harrowing mystery Book.
"Since the cover compares Ron Rash to John Steinbeck and Cormac McCarthy and includes high praise from Daniel Woodrell, you'd think this book ranks among the best backwoods fiction since 2006's Winter's Bone. You wouldn't be wrong. Set amid the anti-immigrant hysteria of World War I, this gripping novel opens when town outcast Laurel Shelton discovers a mysterious mute man playing the flute near her cabin in rural North Carolina. From the moment Laurel starts to question the stranger's background, it's clear that The Cove isn't just an elegant work of literary fiction, written in a voice that's hauntingly simple and Southern; it's also a riveting mystery. Suffice it to say it begins with a skull that's discovered in a well, and by the end you'll find out whom it belongs."
–Melissa Maerz
Irish Times – April 10, 2012
"AN EERIE SADNESS overshadows this powerful little study of life on the margins….This is a novel stalked by fate, and it continually pits simplicity against cunning, without ever becoming sentimental. The language is ideally pitched to the narrative. Written in five sections that conform to the notion of a five-act drama, it is a nuanced American tragedy, vividly and traditionally executed with deceptive grace. Rash draws on the darkest elements of the fairy tale and the devices of light and shadow, romance and vengeance, while refraining from the stock sexualisation introduced by many contemporary writers.
The closing comments, uttered by a devastated old friend, achieve a Shakespearean resonance. This very fine, dignified, almost stately novel speaks from another time and does so with rare conviction."
USA Today – April 08, 2012
"…[a] gently beautiful new novel… Rash, a native of Appalachia, has written a southern tragedy, with a self-consciously "Shakespearean structure and economy, and to reveal the plot of The Cove in greater detail would be wrong. But most of the book's pleasures have nothing to do with its story… a powerful novel, with some of the mysterious moral weight of Carson McCullers, along with a musical voice that belongs to Rash alone."
The Asheville Citizen-Times – April 6, 2012
"In The Cove, Rash masterfully poises suspense elements and gives full reign to other strengths: language, awe, symbolism, cast of characters and mountain knowledge…The Cove is a crafted gem. It's a book you could read again to savor the writing. Rash has found a subject that compellingly represents his vision—beauty shadowed by foreboding; and he's made it symphonic."
The Independent (UK) – Sunday March 25, 2012
"…[Rash has] a poetic vision and clarity of prose that's the envy of most writers. The comparisons to Steinbeck and McCarthy are spot on, as Rash seems to dig his stories out of the rural dirt, using his familiarity with the cadence of the language and the subtleties of local geography to instil a supreme, quiet authority over every sentence… superbly executed. …While Rash sucks the reader in with the plot, it is the beautiful precision of his line-by-line prose that is the real joy of The Cove. The descriptions of Laurel and Hank's existence are mesmerising and poetic, never cluttered or overwritten. It is a hard life and that is reflected in the language, but there is elemental beauty to be found even in the darkest recesses of the world and the mind, and Rash finds it in spades. This is as patient, understated, precise and controlled a narrative as you'll read anywhere… …an unmitigated joy to read."
— Doug Johnstone
Sydney Morning Herald, (Australia) – March 24, 2012
"Rash's black fairytales have wings and poison in their tail, and then they fly… Rash lures readers deep inside his pages with a sure hand, promising intimacy while delivering a tale bigger than its parts… … When events accelerate out of control towards a scorpion-sting finish we are reeling in the way that only an absorbed reader can be. Rash's tiny tale explodes into a story of bigotry and suffering as he pushes the boundaries way past the states of Carolina to astound us with insights and emotions we understand, no matter the time and place, whatever the genre."
— Lyn McDonald
Herald Sun Melbourne (Australia) – March 24, 2012
"Rash's language is as tough as the landscape he describes and as he tightens the noose he has the reader longing for the rare and blissful moments of light and air."
The Scotsman (UK) – March 17, 2012
"Ron Rash's subjects are innocence and ignorance, aspiration and prejudice, love and death. These are big themes and he is up to them… While the comparison with Steinbeck is valid, Rash is a better more disciplined writer, creating his effects with a finer economy… indeed he is the best American novelist I have come upon in the last 20 years."
— Allan Massie
Financial Times (UK) – March 16, 2012
"For a region long regarded as a hotbed of illiteracy, moonshine and inbreeding, Appalachia sure has some real pretty books written about it. From William Faulkner to Charles Frazier, the region's brutal ruggedness has recommended it to authors as both the last venue of the American Romantic spirit – of the isolated man cast adrift amid untrammelled nature – and of something more ancient still, a violent world in which morality is still being tested and shaped…
Rash is a brilliant miniaturist. In describing the Appalachian landscape he can enthral the reader for pages just by telling them of the patterns of rust on a fencepost or of shards of broken glass dangling from a tree. Similarly, his portrayal of the region's inhabitants is supremely deft.
— George Pendle
The Guardian (UK) – Friday, March 16, 2012
"The greatest pleasure in it for me was the clear, rather mannered cadence of the prose and the author's fine ear for the speech rhythms of the rural South."
— Ursula K Le Guin
Kirkus Starred Review – March 15, 2012
"Lonely young woman meets mysterious stranger. What might have been trite and formulaic is anything but in Rash's fifth novel, a dark tale of Appalachian superstition and jingoism so good it gives you chills. … Even better than the bestselling Serena (2008), for here Rash has elevated melodrama to tragedy."
The Guardian (UK) – March 10, 2012
"After years of excavating the fictional ground beneath his feet, Rash lately and deservedly seems to have struck paydirt… It is Rash's way with language, though, which prevents his ballad-like tale ever threatening to be simple melodrama. His sentences unfold in unusual and often beautiful ways, dwelling on the regional language, its rootedness in the rhythms of daily life… semantic and syntactical tautness runs right through this novel, the stretched wire of Rash's narrative linking regular fenceposts of solid observation, and it makes the tragic ending all the more affecting.
The Cove is a short story writ large, in a way, following a single strand of love and loss, fossicking at a neglected moment of American history; but because of its simplicity, the hard-won elegance of its telling, it stays singularly in the mind after it has finished.
— Tim Adams
Booklist Starred Review – February 1, 2012
In the Appalachians of North Carolina near the end of WWI, lonely Laurel Shelton lives with her brother, newly returned from the war, in a forbidding place known as the cove. Shunned all of her life by the townsfolk of Mars Hill because they believe she is a witch, Laurel despairs of ever making a life for herself. But one day a stranger appears carrying a silver flute and a note explaining that his name is Walter and that he is mute. But Walter is hiding his true identity, for he is well aware that it would place their lives in grave danger. Meanwhile, Chauncey Feith, a dimwitted and ambitious army recruiter, stokes the locals' hatred and fear of "the enemy," while Laurel's brother and others who actually served in the war regard his posturing with great contempt…
…A powerful novel that skillfully overlays its tragic love story with pointed social commentary.
Publishers Weekly Top Pick – Starred Review – January 9, 2012
"Veteran novelist Rash (Serena) knits his newest rustic yarn in North Carolina during WWI. Located near the hardscrabble village of Mars Hill, the cove is shrouded in superstition, "a place where ghosts and fetches wandered." Nearby, the alienated Laurel Shelton lives with her wounded war veteran brother in an isolated cabin. While out doing laundry by the creek one day, Laurel discovers Walter Smith, an illiterate, mute flutist en route to New York City, who has been incapacitated by hornet stings. As she nurses the mysterious Walter back to health, Laurel begins to fall in love. "Waiting for her life to begin," she clings to Walter and the future he represents. However, local Army recruiter Chauncey Feith threatens to ruin all that Laurel and Walter hope for. A rabid anti-German agitator, he begins to suspect that Walter is not who he claims to be. Driven by fear, patriotism, and bloodlust, Chauncey progresses from arrogant drunk to a craven yet dangerous force. The gripping plot, gothic atmosphere, and striking descriptions, in particular of the dismal cove, make this a top-notch story of an unusual place and its fated and fearful denizens"
Library Journal Starred Review – October 1, 2011
"Rash develops his story masterfully; the large cast of characters is superbly realized, as is the xenophobia that accompanies the war, and Rash brings the various narrative threads together at the conclusion of the novel with formidable strength and pathos."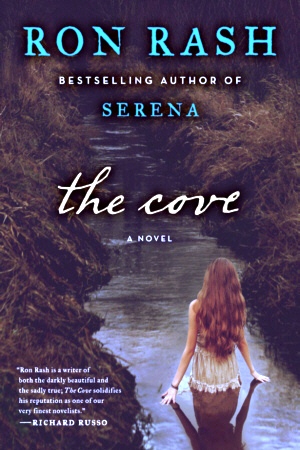 More About This Book
Buy This Book