Looking back, it's hard for me to imagine a more eventful and life-changing year than 2005. In June, I became a dad; five months later, I lost my own father. In 2005, I also became a homeowner, an event that was hastened by an incident that occurred at the very beginning of the year.
My wife, who was three months pregnant, and I had been walking our dog around the North Lawn of Central Park on one of the coldest days of the winter. We exited the park at Strangers' Gate, then walked a block and a half west to the apartment on Ellington Boulevard where we'd been living for approximately five years. Our neighborhood, known variously as Manhattan Valley, the Upper West Side, and South Harlem, was experiencing massive gentrification. The New York real estate scene had exploded, and I was aware that, even though my first novel Crossing California would be published in paperback in the spring, only a few months before its sequel The Washington Story would come out in hardback, we would no longer be able to afford to live in our apartment.
While writing my first two novels, with the benefit of hindsight, I had examined changes that had occurred in my old neighborhood in Chicago during the late 1970's and 1980's. Now, I was watching up-close as another community was transforming—long-time residents and business owners were being forced out by rising rents; homeowners were making profits they could never have anticipated. Throughout the city, everywhere I went, conversations centered around real estate.
My landlord had owned our apartment, a pleasant-but-by-no-means-luxurious two-bedroom in a six-story walk-up on Ellington (known more commonly as 106th Street), since 1989; back then, the neighborhood had been a good-deal rougher and an infamous brothel was located just one block east. Now, he was trying to sell for a more than 1,000% profit. The landlord and I no longer had a lease and we were working with a month-to-month agreement sealed with a handshake. With twenty-four hours notice, he and his broker had our permission to show the apartment to prospective buyers.
But that night, when we returned to our apartment, the front door was already partly ajar. I opened the door the rest of the way, and saw four people inside—a real estate broker, a young man and woman, and the woman's father who I later learned would be helping them put a down-payment on an apartment. My dog went berserk, as he tends to do when strangers are in his home. He lunged and snapped at the intruders until I could put him in our bedroom and shut the door. An argument erupted between myself and the real estate broker who had entered without our permission or foreknowledge.
I had already written about fifty pages of a new novel, and had also started mentally sketching the next installment in the sagas of the Wasserstrom, Rovner, and Wills families whom I had explored in Crossing California and The Washington Story. But as weeks passed, that night in January kept returning me. I imagined numerous scenarios in which a man and his dog return to what they thought was their home only to find it populated by strangers planning to buy it out from under them. And as I criss-crossed the city in search of a new apartment, meeting real estate agents, mortgage brokers, and lawyers, and having surprisingly vitriolic exchanges with my landlord, I began trying to imagine who that man might be, and then imagining the lives of the buyers, the seller, the broker, the owner, even the dog.
As I continued to ask myself questions, I began developing characters whose lives were at points of transition, some of which mirrored my own. The soon-to-be-displaced tenant was a clarinet player coping with the recent death of a parent. The young couple placing their bid on the apartment (a graduate student in English literature and a junior editor at a struggling publication) were contemplating parenthood. The broker (an actor who finds his talents better-suited to real estate), the owner (a trust-fund layabout seeking to redeem himself as he enters his forties), the tenant's dog and the pigeons roosting on the apartment's conditioner would all find their lives affected in one way or another by the sale.
In June of 2005, my daughter Nora was born. In November, my father passed away at the age of eighty after a series of illneses. I remember the sense I had returning to sit shiva at the home where my parents had lived together for forty-four years, this sense that the security and feeling of permanence I had once enjoyed there would never return. Two months later, I had completed a draft of a novel entitled Ellington Boulevard, which explores the lives of a series of characters all directly or tangentially involved in the sale of one small and suddenly-valuable apartment on the titular street.
By the way, the young couple, whom I had seen on the January night when my wife, my dog, and I returned to our apartment, didn't buy our place. Perhaps they were scared off by my argument with the broker; another couple ponied up about three months later. My landlord didn't get his 1,000% profit, and had to content himself with a mere 700%. My wife and I found a somewhat cheaper place across the hall. Our new neighbors thankfully turned out to be dog lovers, and our dog seems to enjoy his new apartment about as much as he enjoyed his old one. So, we're planning to hang onto the place—at least for a little while.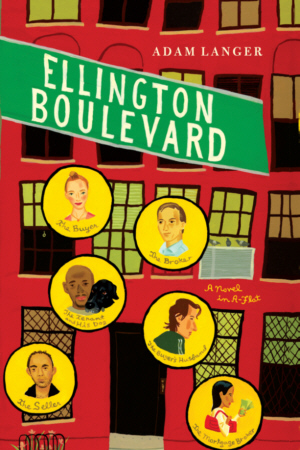 More About This Book
Buy This Book