The Story Behind the Book
AND SHE WAS by Cindy Dyson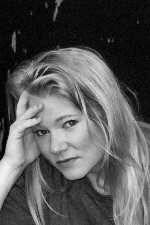 This woman kept nagging me. I'd be trying to write an article about how to achieve ultimate orgasms or about the latest finds at an archeological excavation, and suddenly she'd be there, demanding I open that file, the one with only three sentences, the first lines of a book I never meant to write.
I knew who she was. She was trashy and blonde and too old to be with that kind of a man, too old to be working for tips in that kind of bar. She was the beginning of an answer to a question, one I'd wondered about for many years. It was a question that sprang from my experiences as a cocktail waitress on an island in the Bering Sea.
In the late-80s I followed a fisherman to the fishing boomtown of Dutch Harbor in the Aleutians. I found myself, a few days before my twenty-first birthday, working as a cocktail waitress at the Elbow Room, a bar infamously rated by Playboy as the "most despicable" in the country. I left the man and island and moved on to college and newspaper reporting jobs. But once in a while, I'd think back and wonder who I would have been if I had stayed, if I'd become stuck in that life of endless parties and easy men.
This woman kept asking me to think about it. She kept asking me to figure out how it felt to be her. And what it would take to set her free.
I knew where she was — working in a dive bar in the Aleutians. So I started to research the islands and I became captivated. The journalist in me had something old and meaty and obscure to research — the history of a forgotten people living in one of the most desolate, unforgiving places on earth. I poured through journals written by explorers and priests, discovered dark legends and fearsome taboos and a willful, beautiful people, decimated nearly to extinction by their conquerors.
In writing my novel I kept my focus on real events that shaped the future for these people, and imagined what it took for the survivors to make it. What they did was heroic and gruesome, holy and sinful. It was the ambiguity that fascinated me and brought a nuance and depth to the book that I didn't expect. It gave me an opportunity to play with several themes that have long captivated me — the consequences of man's fall from grace in the Garden of Eden; the dependence of women on men; the fluid nature of the relationship between conquering and conquered peoples; the life saving and life threatening facets of taboos.
But most importantly I armed one nagging, trashy blonde cocktail waitress with the heroic, tragic stories of another people's past, then found a way to set her free.
About the author
Cindy Dyson grew up in Alaska, commercial fishing with her father. She graduated from the University of Missouri, Columbia, School of Journalism, covered brutal small town politics for a daily newspaper in upstate New York, then moved to Montana and began freelancing, writing scores of articles for national magazines and eight educational young adult books. She lives near Glacier National Park with her husband, Mark, and four-year-old son, Simon.