Buffalo News — June 30, 2005
WAR'S SACRIFICE
Marine Cpl. Jason Dunham threw himself on a grenade to save his men-but his life was extraordinary even before that final moment
By Anthony Violanti
Jason Dunham was a walking Marine poster. The Southern Tier native stood 6-feet, 1-inch tall, with handsome chiseled features and a muscular body. At 22, he had piercing, dark hazel eyes and was brimming with charisma and leadership.
On his face was an engaging smile, tattooed on his chest was the ace of spades. He was a tough Marine corporal with a soft heart, "a good old country boy" who liked to play pool, flirt and listen to Tim McGraw CDs.
That IS the Jason Dunham that Mark Dean remembers. Not the mortally wounded, disfigured and bloodstained figure Dean found on a hot and dusty Iraqi street after Dunham threw himself on a grenade, probably saving the lives of at least two of his men.
"The face, bloated and bloodied, didn't look familiar. Then (Dean) . . . realized he was looking at one of his best friends. "Dunham, if you can hear me, give me a sign,' Dean begged. Jason didn't speak, although Dean noticed his left leg move a bit. . . Dean prayed to himself and spoke aloud to Jason to try and keep him steady. . . "You're going to be all right,' said Dean. "We're going to get you home.'"
The scene was included in "The Gift of Valor," a new book on Dunham written by Michael M. Phillips and excerpted in Sunday's Parade magazine in The Buffalo News. Today, Dean still lives with that moment, and with thoughts of Jason Dunham, who has been recommended for the Congressional Medal of Honor. The medal, which has only been awarded once for the Iraq War, would put Dunham among the most select company in military history.
"I think about him every day," Dean said last week in a telephone interview from California, where he is stationed. "Some days are tougher, and some aren't."
"Cpl. Dunham had a gift from God," Dean added, his voice breaking. "Everybody who came in contact with him wanted to be like him. He was the toughest Marine but the nicest guy. He would do anything for you. Cpl. Dunham was the kind of person everybody wants as their best friend. It's hard to explain in words."
In his book, Phillips faced that journalistic challenge. Phillips, an embeded reporter for the Wall Street Journal, never met Dunham. Phillips arrived in Iraq in May 2004, a few weeks after the Marine's death. But Phillips said that everywhere he went, some Marine would tell him about Dunham.
"I never met Jason, but I kept hearing about him," said Phillips, 42. "You hear about a man who jumped on a grenade and could get the Medal of Honor, and right away you know it's a good story."
Family turmoil

Phillips wrote a front-page piece on Dunham for the Journal last May. It struck an immediate, emotional chord with the American public. The paper received hundreds of letters and emails. Back in Scio, which is near Wellsville in Allegany County, Dunham's family members said they received nearly 1,000 letters since the Journal ran his story, which was also reported in The News.
Dunham's story was one "of extraordinary valor on the part of a brave Marine," retired Army Gen. Norman Schwarzkopf said in a statement.
"Everybody seemed touched about one young man who gave everything for his country," Phillips added.
On the surface, it seemed a simple story: Small-town boy transformed into a war hero. But, as Phillips discovered, Dunham's life and death had complex and profound meanings.
Family turmoil filled Dunham's early childhood. Dunham's mother was just 16 and a sophomore in high school when he was born, Phillips writes. Her boyfriend, Jason's father, soon left her. His mother eventually married a man named Dan Dunham, but that ended in divorce. He nonetheless adopted Jason and was granted custody, along with another son named Justin.
Dan Dunham married his current wife, Deb, a few years later, and the couple had two other children – Kyle, 16, and Katelyn, 12.
"We told Jason from the beginning that he was adopted," Deb Dunham said this week. "It didn't matter, I consider him my son, and we're all one family. I remember when he was about 6 or so, he would hug me and say, "You can be my mother."
In Scio, Jason had a passion for baseball and other sports. He was a popular student at Scio Central School but always rooted for the underdog. "He was easy-going, but he stuck up for people who needed help," Deb Dunham said.
Dunham was 17 when he signed up for the Marines during his senior year in high school. Late in 2003, he found out he was going to Iraq. Before shipping out, Jason talked to his parents about what might happen if he didn't come back.
If his wounds left him incapacitated, Phillips writes, Jason told his father he didn't want to remain on life support.
"Dad, don't let me lay there for a day if I'm going to be that way forever."
In the book, Phillips describes a conversation Jason had with his mother as he was leaving for Iraq: "As Jason walked to the doorway of his home to leave, Deb looked at him and said: "You want your dress blues?'
"Yep," Jason replied.
"And you want a full military service?"
"Yep."
"Nothing more was said," Phillips writes, "they both new they were talking about Jason's funeral."
A prayerful decision
A few months later, shortly before his death, Jason phoned his mother from Iraq.
"I just felt he was saying good-bye," Deb Dunham said last week. "I don't know if it was premonition, but when you love people, especially love between a parent and child, you feel a special kind of bond."
On April 14, 2004, Dunham led a 14-man foot patrol into a town called Karabilah. Dunham approached a line of seven Iraqi vehicles along a dirt alleyway. An Iraqi in a black suit jumped out of one of the vehicles and grabbed Dunham by the throat. The two men fought as two other Marines raced to the scene.
The Iraqi had a grenade in his hand, and Dunham yelled to two Marines near him, "no, no, no, watch his hand," Phillips writes. The grenade rolled loose, and the other Marines believe Dunham placed his helmet and body over it to protect them. It exploded, and Dunham lay face down and unconscious in his blood.
"Cpl. Dunham was in the middle of the explosion," Pfc. Kelly Miller, 21, one of the Marines who raced to the scene, was quoted by Phillips. "If it was not for him, none of us would be here. He took the impact of the explosion."
A helicopter flew Dunham, near death, to battalion headquarters in Iraq. He was then transferred to another base in Iraq before being flown to the National Naval Medical Center in Bethesda, Md. That's where Deb and Dan Dunham went to see their son.
Phillips describes how doctors told the couple the damage was "irreversible. He would always be on a respirator. He would never hear his parents or know they were by his side. Another operation to relieve pressure on his brain had little chance of succeeding and a significant chance of killing him."
After much thought and prayer, the Dunhams decided to remove the life support.
"Jason left a living will, and Dan and Jason talked about this," Deb Dunham said last week. "It was hard to know you have to do this. You give birth to a child and you love and support and do things for your child his whole life. You meet your child's needs.
"Ultimately, we felt this was another way we had to meet Jason's needs. I saw my husband's heart torn out. But we met our child's needs. This is what he wanted."
View of Iraq War
The thought of a Medal of Honor is helpful for Deb Dunham and her family.
"It won't bring back my son," she said, "but Dan and I believe Jason is deserving of the medal. Not because we want him to have it, but because he earned it on his own merit."
"I was there, and I believe he deserves the medal," Dean said. "If he doesn't get it, I will be really disappointed because I don't know what more you can do."
So will the rest of the country when "The Gift of Valor" (Broadway Books, $19.95) is released Tuesday. Phillips will be in Scio to mark the occasion, and Deb Dunham will be there with him.
"This has been a very difficult year," she said. "The rawness and sense of loss for us will never go away. It's easy for people to forget about the sacrifice Jay made, and as his mother, I don't want anyone to forget. With this book, Michael has made it possible for people to remember Jay."
The book offers a grunt's-eye view of life in Iraq. Phillips has an accessible easy to read, writing style. Like famed World War reporter Ernie Pyle, Phillips makes the personal side of war a universal experience.
"The book tells what it's really like to be over there," Dean said. "People in America need to hear about Cpl. Dunham."
About the author
Michael M. Phillips, a staff reporter for The Wall Street Journal, has done four tours in Iraq with the Third Battalion, Seventh Marines. He lives in Washington, DC, with his wife and two children.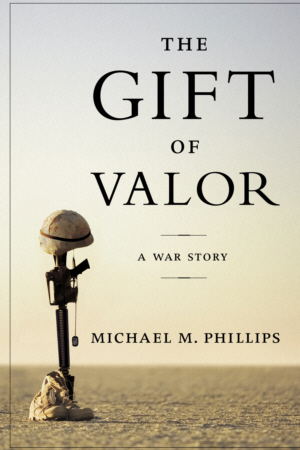 The Books
More About This Book
Buy This Book