Bookstore and Media Events
Dates are all 2008 unless otherwise noted
Books Inc. – Laurel Village
Reception and Reading
Bring a friend and have a glass of wine with me! Tuesday, July 8, 7:00 p.m. Reception, 7:30 Reading
3515 California Street, San Francisco, CA
(415) 221-3666
Copperfield's – Santa Rosa, CA
Wednesday, July 9, 7:00 p.m.
2316 Montgomery Drive, Santa Rosa, CA
(707) 578-8938
Book Passage – Corte Madera, CA
Friday, July 11, 7:00 p.m.
51 Tamal Vista Blvd., Corte Madera, CA
(415) 927-0960
Books and Company – Dayton, OH
Tuesday, July 15
The Greene Shopping Center
4453 Walnut Street, Beavercreek, OH
(937) 429-2169
Davis Kidd – Nashville, TN
Wednesday, July 16, 7:00 p.m.
2121 Green Hills Village Dr., Nashville, TN
(615) 385-2645
Carmichael's Bookstore – Louisville, KY
Thursday, July 17, 7:00 p.m.
2720 Frankfurt Ave., Louisville, KY
(502) 896-6950
Borders Books and Music – Ann Arbor, MI
Monday, July 21, 7:00 p.m.
612 East Liberty, Ann Arbor, MI
(734) 668-7652
Harry W. Schwartz Bookshops – Milwaukee, WI
Wednesday, July 23
17145 W. Bluemound Road, Brookfield, WI
(262) 979-6140
A Great Good Place For Books – Oakland, CA
Thursday, July 31, 7:00
6210 La Salle Avenue Oakland, CA
(510) 339-8210
Gallery Bookshop – Mendocino, CA
Women's Book Salon
Wednesday, August 6, 6:00
Main and Kasten Streets, Mendocino, CA
(707) 937-2665
Mrs. Dalloway's – Berkeley, CA
Thursday, August 7, 7:30
2904 College Ave., Berkeley, CA
(510) 704-8222
Village Books – Pacific Palisades, CA
Thursday, August 14, 7:30
1049 Swarthmore Ave Pacific Palisades, CA 90272 (310) 454-4063
Clayton Books – Clayton, CA
Bring a friend and have coffee or tea and dessert with me!
Monday, August 18, 7:00
5433 D. Clayton Road Clayton, CA
(925) 673-3325
Please contact Clayton Books for details.
Towne Center Books – Pleasanton, CA
Wednesday, August 20
555 Maine Street, Pleasanton, CA
(925) 846-8826
Other Events
27th Annual Palo Alto Summer Festival & Chili Cook-off
Friday, July 4 at Mitchell Park
Join Meg between 1:00 and 2:30 at the Library Booth, where you can sample Chili made by Google Chef Ray Ray, purchase a copy of The Wednesday Sisters from Books Inc., and help us kick off the Library Campaign!
Books Inc. 4th Tuesday Book Club – Palo Alto
Tuesday, September 22, 7:00 p.m.
Town & Country Village
855 El Camino Real #74
Past Events
Book Group Expo Off the Shelf Literary Salon
Monday, June 30 at Mantra Restaurant in Palo Alto
Details and Reservations through Book Group Expo
Authors@Google – Lunchtime Reading for Google Employees
Friday, June 27, 1:00 p.m.
Stacey's Books – San Francisco
Thursday, June 26, 12:30 p.m.
581 Market Street, San Francisco, CA
(415) 421-4687
The Santa Barbara Writer's Conference
New Novels Panel
Tuesday, June 24, 4:00 p.m.
Beyond Words
lively, often funny show for literary toilers and word lovers Saturday, June 21, 2:00 p.m. on KCLU, an NPR affiliate 88.3 in Ventura County & 102.3 in Santa Barbara County On the web: www.kclu.org.
Kepler's Books – Menlo Park, CA
Thursday, June 19, 7:30 p.m.
1010 El Camino Real, Menlo Park, CA
(650) 324-4321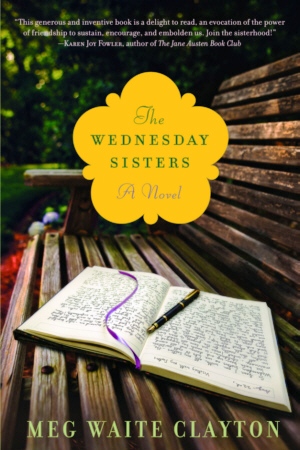 More About This Book
Buy This Book