Review Excerpts
Minneapolis Star Tribune – December 7, 2003
"The Pilot Razor Point pen equivalent of Nora's tarantella – straight through the Great Depression, World War II and the Gulf War. These are witty and wry poems, not self-pitying confessionals. They speak of forbidden movies, "dirty boys," casseroles, winter storms and Kierkegaard. They are laced with the hard-earned humor of women of a certain generation… And, despite their themes of death, displacement and divorce, they are as bolstering and resonant as the church organs of Hanson's childhood."
— Sarah T. Williams
Pioneer Press, MN – December 7, 2003
"I flat-out loved this book, which is based on Hanson's journals. I'd describe her poetic voice as sitting-across-the-kitchen-table, but I don't want to put her in the same box as the male writer who once called her a 'housewife poet'… Hanson's subjects and emotions are wide-ranging. She's funny, touching, thoughtful, occasionally sad but mostly optimistic… Hanson is happy to be 75, and that's a viewpoint we aren't hearing much."
— Mary Ann Grossmann .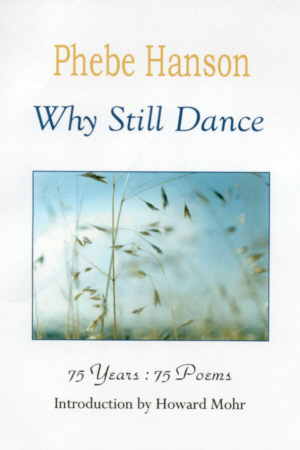 Buy This Book
<!- View not found ->