PHEBE HANSON PUBLICATON READING
Introduction — December 10, 2003
The Loft Literary Center
One time some years ago Phebe and I were at a café, and I had gone to retrieve my coat while she was still at the table. A woman came bustling toward me with a gleam in her eye. Oh excuse me, she said in the eager/shy way-ah, I thought, a reader, a fan. In the nano-second before the woman continued, I was deciding whether I should adopt a look of slight impatience I had observed on the face of certain celebrated writers when approached by a stranger in a public place or if I should, instead, go with a smile of modest surprise. I had pretty well decided on modest surprise when I heard the woman saying, "I'm just wondering if that woman you were sitting with could be Phebe Hanson?….Do you know her?" You get used to this sort of thing if you hang out with Phebe much.
Sometimes it's hard being Phebe's friend. Somewhere along the line you become not just her friend but her fan, and you begin to get a gleam in your eye like the woman in the coffee shop. Phebe seems to bring out the evangelist in her friends and fans-maybe that's an inevitable legacy of the Lutheran pastor father we often meet in her poems.
Phebe is the least careerist poet I've ever met, maddeningly unconcerned with the usual notches on the holster, the way up the ladder, though she has published widely in magazines, has won a Bush grant for her poetry, and is routinely cited as one of the great teachers of literature and writing in the Minneapolis Public Schools and from her years as professor at the Minneapolis College of Art and Design.
But she has maintained a private rigor about her poetry that is magnificent. I've watched as famous writers come to town, read her work and press their editors and agents upon her. I've seen friends push applications for grants and awards at her. Later you find the grant application or the famous editor's card shoved under a stack of books or offered as a coaster for your coffee cup. This is not a woman given to revising her resumé. I have met in coffeeshops across the metro with other friends of Phebe as we've plotted to get her to send her ms out. In the end, of course, she has known better, and her second, luminous book comes dancing out, just as it should, with her own perfect timing and the more deft moves of Marly Rusoff and Norton Stillman.
Tonight we celebrate a new book and a long, still buoyant life as the book's cover invites us to do-WHY STILL DANCE 75 YEARS: 75 POEMS. So there's a birthday party at the heart of our celebration-not just Emily Dickinson's birthday though as Phebe, who keeps track in her fevered journal writing, is bound to say, today is Emily's 173th. But I think we're all here to honor Phebe's 75th as well, which we also celebrated earlier in the year, where all the testimonials, 30 or 40 of them, began "And as Phebe's best friend, I'd like to say…."
WHY STILL DANCE, Phebe Hanson's second collection, comes 18 years after her first, SACRED HEARTS, which is still in print-a remarkable fact in itself. The promise of those earlier poems is fulfilled in the mastery of the new book. Phebe Hanson may be celebrated and beloved for her humor, but then humor is perhaps the one deadly serious literary business. The poems Phebe has written here have the pitch-perfect voice of mid-American vernacular cunningly raised to the sublime so you hardly realize what has happened as you are raised up. She possesses the acute sense of language she honors in Emily Dickinson but I think Bill Holm, another of her best friend fans, is right when he says that Phebe Hanson is even closer to Walt Whitman who, Bill says, "thought of LEAVES OF GRASS as an experimental attempt to set down the real life of a man without braggery, whining or false sentiment in the 19th century. Phebe Hanson does Walt's work admirably for the life of an American woman in two-thirds of the 20th century."
This is big-hearted, big-minded writing. It is personal, of course, but it is surprisingly detached, full of historical sensibility and the faithfulness of a true elegist. For under the humor that delights, there is the constant, courageous mourning, a grief that we know endures, and has become, in these remarkable poems, a radiance that breaks and opens the heart. For that, Phebe, we, your readers, are forever grateful.
Please join me now in welcoming Phebe Hanson…
— Patricia Hampl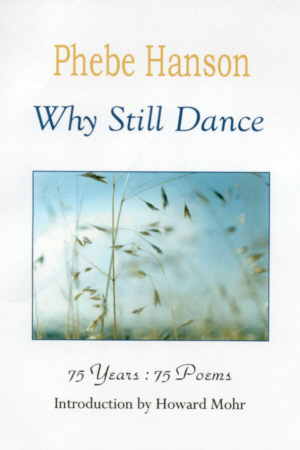 Buy This Book
<!- View not found ->