Booklist – October 15, 2018
"…Van Dam delivers a touching debut novel through the voice of a forgivably frustrating narrator who captures what it means to be a teenager… …van Dam artfully explores the strength of familial ties and what defines a home…"
School Library Journal – Starred Review – September 2018 
Gr 7 Up–For years, Roonie has been taking care of her little brother, Daniel, as their mother spirals deeper and deeper into the New World Society. While their mother prepares for Departure Day, the day Society members will be taken up by aliens to another planet, Roonie uses the income from her after-school job to purchase food for the family. In desperation, she reaches out to her estranged father for support. Reconnecting with her father proves unexpectedly disquieting, as he shares with Roonie information that her mother has withheld. However, when her father announces his desire to assume custody of her and her brother, Roonie resists. She assumes life will return to normal after an anticlimactic Departure Day, only to learn that the family's problems are bigger than she realized. In the tradition of Cynthia Voigt's Homecoming and Margaret Peterson Haddix's Don't You Dare Read This, Mrs. Dunphrey, Roonie is a teen thrust too early into adulthood. The stress she experiences is palpable as she single-mindedly strives to care for Daniel, the one person she allows herself to love. Years of living on the edge with her irresponsible mother have drained her so emotionally that when she meets Carol, her father's new wife, she is taken aback to realize the woman radiates happiness, and she no longer knows how that feels.
VERDICT With an engaging plot premise, a strong, flawed heroine and a touch of romance, this book will fly off the shelf.–Nancy Nadig, Penn Manor School District, Lancaster, PA
Publishers Weekly – September 9, 2018
"In this YA debut, van Dam offers a family-centered story that takes on faith, doubt, sibling bonds, and mental illness…  …Van Dam's portrait of Rooney, who has to act as a parent, is poignant, layered, and heroic. As November approaches and the reality of the family's dire circumstances sets in, Rooney must find a way to pull her mother, brother, and herself through in this emotional story."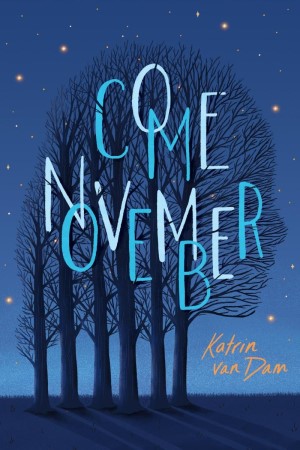 The Books
More About This Book
Buy This Book