Jackson Free Press – June 10, 2009
"Woodsburner deftly weaves big thoughts about fate, religion, and commerce with the burgeoning adventure of America between the Revolutionary and Civil wars, and an unexpected good measure of humor. It's a novel carried effortlessly by Pipkin's engaging, provocative prose and the often-surprising stories of his characters, and culminates in an exciting battle of epic proportions against nature itself. ….readers will be pulled inexorably toward the heat ignited by the fires of each character's story. Whether stoked by a simple urge for connections or long-subsumed desire for glory, fire defines the characters, yet it is their all-too human passions and foibles that are at the heart of "Woods Burner." It is a book that will keep you up all night racing toward the last page, and then will leave you longing for more. Do yourself a favor and give up a day for this one."
— Ronni Mott
NPR.org – May 26, 2009
True fact: One year before he built his cabin on Walden Pond, Henry David Thoreau accidentally scorched 300 acres of the Concord woods. In Woodsburner, John Pipkin's lyrical debut novel, Pipkin re-creates the events of that day from the perspective of Thoreau and several other Concord residents — an opium-addicted preacher, a pompous bookseller and, in some of the novel's most flat-out beautiful passages, a love-starved Norwegian farmhand — who will see their lives irrevocably changed by the fire.
Pipkin's characters are full of convincing contradictions: His Thoreau, for example, spends the day vacillating between guilt over the accident and defiantly rationalizing his incautious actions. The author has some thoughtful things to say about the notion of American freedom, and the conflagration that serves as Woodsburner's central metaphor allows him to say them in language that is at once vividly precise and richly allusive.
Christian Science Monitor – May 25, 2009
John Pipkin has had the great good sense to turn this somehow little-known event into a novel, Woodsburner, that manages to be both philosophical and a rollicking good read… "Woodsburner" is Pipkin's first novel, but, with its complex structure and top-notch prose, there's not a page that reads like the work of a novice…
— Yvonne Zipp
San Francisco Chronicle – May 23, 2009
…John Pipkin's excellent debut novel… One of the most enjoyable aspects of "Woodsburner" is Pipkin's language. It is precise and period-worthy, quite delicious… "Woodsburner" doesn't read like debut fiction. It is a mature historical work by a writer who happened upon a small footnote in American history and fanned a flicker into an imaginative, complex novel that humanizes an American icon.
— Steve Bennett
Library Journal Starred review – May 15,2009
This is a powerfully rendered debut about an infamous moment in American literary history: Henry David Thoreau accidentally starting a massive fire that burned 300 acres of woods near Concord, MA, in 1844. Significantly, this happened just a year before Thoreau removed himself from society, built his cabin, and began work on his masterpiece, Walden. Pipkin does an excellent job of bringing the people and environs of historic Concord to life. There are three other major characters in the novel – an orphaned Norwegian farmhand, a Puritan-style preacher, and a bookseller and aspiring playwright – and each ends up influencing Thoreau in some significant way as they fight the fire together. All are skillfully drawn. The novel ends just days after the fire, with the young Thoreau humiliated and the people of Concord outraged, and Pipkin suggests that responsibility for this fire is what drove Thoreau into the woods and into deep reflection about nature, self-reliance, and living. A fascinating fictional exploration of a seminal American event.
Times Picayune – May 13, 2009
John Pipkin's brilliant first novel takes as its inspiration a line from Henry David Thoreau's journals, written in 1850: "I once set fire to the woods… It was a glorious spectacle, and I was the only one there to enjoy it… [Woodsburner] crackles with heat and energy, as we see these characters tested by the flames, scorched by their passions, beliefs and hopes. John Pipkin uses Thoreau's own sentence like a match, to spark a vision of a younger America poised at a moment of self-definition.
— Susan Larson
New York Times Book Review – May 3, 2009
"Thoreau's biographers commonly have made little of the incident, but John Pipkin takes the lighting of that fateful match as the starting point of his intelligent and often lyrical first novel, Woodsburner…. As the fire spreads, his Thoreau springs to life, meditating defensively about accident and intention…and when Pipkin surreptitiously incorporates sections of Thoreau's journals into his character's perspective, he creates a Thoreau who rationalizes with adolescent piquancy…. Pipkin also beguilingly conjures as assortment of appealing characters who find themselves in or near the Concord woods the day Thoreau set fire to them…. Since Woodsburner is, in effect, a wily fictional prequel to 'Walden,' Pipkin's motley characters, taken together, suggest how our vintage Thoreau, a Thoreau of history as well as fantasy, came to be."
The Dallas Morning News – May 3, 2009
In September 2003, Harper's magazine ran a "Harper's Index" item that read: "Estimated acres of forest Henry David Thoreau burned down in 1844 trying to cook fish he had caught for dinner: 300." That line became the seed for Austinite John Pipkin's wonderful debut novel, Woods Burner, which recounts the day of the fire from the perspective of Thoreau and the members of the community who come together to battle the conflagration, one that threatened to raze Concord… the story is infused with moments of genuine drama, peril and suspense. Woods Burner is edifying, engaging and satisfying, an exemplary illustration of how fiction can illuminate the past, bring history to life and make it feel as fresh and relevant as the present day.
— Edward Nawotka
Amazon.com – May 1, 2009
Best of the Month, May 2009: The early American tree-hugger and pioneering thinker Henry David Thoreau did a bad, bad thing back on April 30, 1844. A year before he settled into the "simple life" at Walden Pond, he struck a match to start a cooking fire in the dry woods around Concord, Massachusetts and accidentally ignited a forest fire that consumed 300 acres. The events of that chaotic day appear to have altered the course of Thoreau's life and American history. More recently, this historical footnote sparked the creation of Woodsburner, a terrific debut novel from John Pipkin. Woodsburner offers a nuanced portrait of a young and less recognizable Thoreau, whose philosophy begins to materialize as the flames lay waste. The talented Pipkin simultaneously presents a vivid picture of mid-19th century New England on the cusp of unstoppable change through a cast of characters: a sadistic and misguided preacher, a desperate bookseller, and an isolated immigrant laborer harboring painful secrets. Their lives are forever changed by the fire which serves as a powerful metaphor for the destructive passions that consume us, as well as the eternal struggles between human society and the natural world.
— Lauren Nemroff
Minneapolis Star Tribune – May 1, 2009
Pipkin's research into the event and the era seems impeccable. The book is rife with interesting historical trivia: how lead pencils were made, the proper use of a mulling poker, how raw coffee beans were roasted. And the author's language nicely captures the tone and diction of 19th-century American English. …This is an ambitious and complex fiction… …Pipkin's "Woodsburner" is an impressive debut.
— Gordon Weaver
The Austin Chronicle – May 1, 2009
"…the America that Pipkin paints is a unique one: a nation founded on freedom and citizens that find ways to shackle themselves or are confounded by the myriad options that America's seemingly unlimited resources engendered."
— James Renovitch
Washington Post – April 22, 2009
The ingenious nature of this structure grows clearer with each haunting chapter. The fire that "flows like brilliant liquid" through Concord Woods is a natural engine for a terrifically exciting story, and Pipkin conveys such a visceral impression of the "clever flames crouching in the branches" that you can feel the heat radiating off these pages…
…
You would expect Thoreau to dominate this story, but he falls away for long sections. When he does appear, though, he speaks and thinks in a mixture of innocence, self-righteousness, apprehension and nobility.
…
But just as captivating are those characters Pipkin has invented, men and women consumed by their own passions. They provide a fascinating impression of the nation when it was still young and swelling and struggling to define itself. They see the Concord fire through their own private flames — fire is everywhere in this novel — and Pipkin allows them to brush up against each other in the most subtle and ingenious ways.
…
New England religious fever is represented by an itinerant preacher, a Gothic figure smelling of brimstone and appalled by Ralph Waldo Emerson's misty brand of Unitarianis.
…
Meanwhile, a snobbish bookstore owner has just arrived from Boston to survey his new store in Concord when the call goes up for firefighters. Eliot Calvert is a merchant worn down by the forces of commerce, the sort of figure suggested by Thoreau's stinging critique of the businessman in "Walden."
…
But from start to finish "Woodsburner" belongs to a strange farmhand named Oddmund Hus (Odd for short, and for real). This painfully shy young man comes to the New World in the novel's most spectacular conflagration, an explosion in Boston Harbor that propels him to shore even as it kills the rest of his Norwegian family. His tumultuous upbringing in America and his efforts to tame his sexual urges display the remarkable texture of Pipkin's storytelling.
…
At the end of the day, when the embers begin to cool and the various story lines in "Woodsburner" draw to a close, Odd is the character who burns brightest in this profound and thoughtful novel, but all of them will linger in your mind.
— Ron Charles
Kirkus Starred Rewiev – April 1, 2009
"A superb historical fiction as well as a complex and provocative novel of ideas—Pulitzer Prize material."
Full review:
An inglorious episode in the life of 19th-century author and environmental saint Henry David Thoreau is the subject of Pipkin's impressive debut novel.In 1844, a year prior to his memorable tenure at Walden Pond, while hiking with a friend on the fringe of woods not far from bustling Concord, Mass., Thoreau impulsively lit a match in dry weather during a high wind, starting a fire that would consume 300 acres of valuable forest and farmland. An initial focus on Henry's guilt and panic unfolds into ongoing portrayals of the lives of three other men variously affected by the conflagration, as independently lived and as briefly linked to the life of Thoreau. Norwegian immigrant farmhand Oddmund Hus, still haunted by images of the fire ignited when the ship that had borne his family to America exploded in Boston Harbor, yearns for his dour employer's buxom Irish wife, and agonizes over whether the recent brush fire he tended had made him the inadvertent "woodsburner." Boston bookseller Eliot Calvert, painfully aware of compromises made to support his demanding family, assists volunteer firefighters manfully, but envisions the catastrophe in relation to the unwritten climax of his (hilariously jejune) stage play. And insanely jealous preacher Caleb Dowdy, long estranged from his more temperate clergyman father, seeks purification for his own sin (withholding the promise of salvation from an innocent man falsely accused of child molestation) in the cleansing power of the great fire. Pipkin tells their stories in a breathlessly exciting present tense, layering in substantial information about the credos and conflicts of the new England Transcendentalists, only occasionally lapsing into expository overkill. The author succeeds brilliantly in portraying a young country struggling to shape its idealistic energies into something concrete and enduring. The consequent successes and failures are movingly encapsulated in "Odd" Hus's emotional, climactic vision of destruction, rebirth and renewal.A superb historical fiction as well as a complex and provocative novel of ideas—Pulitzer Prize material.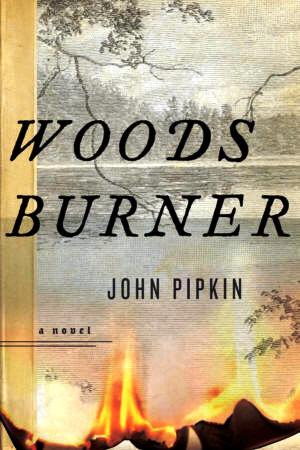 More About This Book
Buy This Book