The New Yorker – May 18, 2009
Phillips's best writing achieves an elaborate, gratifying precision, combining a naturally flamboyant style with neat, observational wit. This quality is sharpest in some of the character portraits and delectable set pieces that animate this novel, his fourth, but the central plot is sometimes strained. A middle-aged advertising director, whose marriage has broken up following the death of his two-year-old son, plays an invisible and unlikely muse to a young Irish singer on the brink of stardom. As the two engage in an indirect seduction—they never meet—the narrative veers close to the "adolescent fantasy" that its protagonist fears. But this curious bond provides an armature for Phillips's beautiful evocation of music's consoling power to blur the borders between art, artist, and consumer.
St. Petersburg Times – May 10, 2009
In The Song Is You, Arthur Phillips has inscribed a 21st century myth of courtly love, as only he can. Phillips' sharp prose style, shunning any fuzziness, forces the reader to confront his best hopes and worst fears about the most transcendent of human experiences… The medievalists were perhaps the first virtualists; Phillips returns to that convention to pose heart-shattering questions about all we are losing as our mania for self-promotion via virtual identities is erasing our foothold on humanity after several centuries of rationalism…
Phillips has risked much, and won nearly the whole game. The reader will come away exhilarated, by glimpses that suffice for the whole, by patterns that elude the makers, by a cycle of consummation that eludes the voracious realist.
— Anis Shivan
Austin American Statesman – May 10, 2009
Phillips is a ferociously smart writer — wise, entertaining, hyper articulate — and "The Song Is You" embodies all of these qualities… Phillips' novel leaves you longing for more.
— Edward Nawotka
The Miami Herald – May 10, 2009
Author of three previous fine novels, Phillips — who lists jazz musician on his résumé — writes evocatively about music and our passion for it. He absolutely nails those brief seconds of shock and joy when the perfect song pops up through the headphones…
— Connie Ogle
Blurt Online – May 9, 2009
The Song Is You, the fourth novel by the New York-based Arthur Phillips, is also a love story… Throughout The Song Is You, Phillips' writing is filled with grace notes and crescendos, solo voices and multipart harmonies, brilliant guitar solos and full-on jam sessions. But it's never messy and only rarely does it fall out of key. You don't read this book so much as sing along with it.
— Jake Cline
USA Today – May 4, 2009
Fans of Phillips, author of Prague, The Egyptologist and Angelica, will find in The Song Is You the gorgeously constructed prose for which all his books have been praised. …The Song Is You showcases Phillips' gift for plumbing the depths of grief and emotional fragility. His love of music, including the profound song lyrics he creates for Cait, is a delight. …a writer of enormous talent…
— Carol Memmott
Bookreporter – May 1, 2009
With his characteristic playfulness and inventiveness, however, Phillips elevates his story to the realm of literary fantasy and musical meditation in terms that will speak to readers and music lovers alike… Phillips's prose is indeed remarkable. He cleverly creates the neologisms he has become known for in other works. In a dog park, for example, Julian observes "Labradoodles and Lhasa-puggles, rotthuahuas, cocksunds, schnorkies, and shiht-boxes." His prose can be as lovely as it is playful: "The best of him was a child's drawing of her on an off day."…
What will speak most profoundly to readers… are Phillips's perceptive and often profound observations on why, and how, we listen to music, on what we hope to find or capture in the music we listen to, on whether music perpetuates connection or merely reflects it.
— Norah Piehl
Buffalo News – April 26, 2009
Phillips' novel is a little piece of perfection in a wildly imperfect world…. This is a wonderful book, especially if you have ever been fully in thrall to popular music…. Phillips is as much wizard as writer…Darkly comic, and sometimes just flatout funny … marvelously creative, spectacularly inventive, Phillips is, most of all, original…. No longer just "someone to watch," he's now become a benchmark for comparison. …This is the kind of novel you wait for, mostly in vain. Now that it has arrived, Phillips takes his place, at least on this reader's shelf, with the likes of Zadie Smith, Jonathan Lethem, and the late David Foster Wallace — 21st century authors, in short, who can simply blow you away with what's happening on their pages.
— Margaret Sullivan
Huffington Post – April 23, 2009
Phillips's way of describing things is so haunting you want to crawl inside the sentences and take comfort in their perfect metaphors and canny allusions… readers willing to follow Phillips and his riffs on life, happiness, children, marriage, professional success and failure and other subjects of the heart will be well-rewarded, not only by the noir, twisted plotting but by the naked emotion and his extreme literary gift.
-– Patricia Zohn
Los Angeles Times – April 19, 2009
…Cait's rise to fame presents many occasions for Phillips to send up the world of would-be glitterati and comment on the creative process itself… With his director's eye, Julian understands that Cait had to "produce and display emotion on demand in contoured, glistening miniature," and of necessity, she required infusions of "feelings she could process in whatever artistic blender she carried within her, to extrude as art."
We can say the same of novelists. Julian, whose iPod earbuds must feel like implants, recognizes that the soundtrack effect "could inject the quotidian with significance, lyricism, uniqueness," and Phillips capitalizes on that to the extent that one can in a non-audio medium, by scatting along with musical references. But the soundless rhythm of language must carry his day, which, in occasional poignancy, it does. The novel's most moving and perhaps musical line is uttered by Julian's mother, who stumbled in on her husband taping a Billie Holiday performance off the radio. She could be speaking for all the novel's characters when she says, caught on tape, "Sorry, my heart."
— Art Winslow
Christian Science Monitor – April 17, 2009
…anyone who was ever a member of a garage band or who has memorized swaths of "High Fidelity" will probably love "The Song Is You." Phillips talks in detail about everybody from Billie Holiday to The Pogues. He's even hidden dozens of song titles in the novel's text… …"The Song Is You" offers a brilliant take on the music scene and a melancholy meditation on song…. The novel is at its best when Julian muses on the power of music. "The songs now offered him, in exchange for all he had lost, the sensation that there was something still to long for, still, something still approaching…."
— Yvonne Zipp
The New York Times Book Review (cover review) – Sunday April 12, 2009 by Kate Christensen
"If novelists were labeled zoologically, Arthur Phillips would fall naturally into the dolphin family: his writing is playful, cerebral, likable, wide-ranging and inventive… The Song Is You shares with its predecessors Phillips's smart, sly inquiries into the scope and possibilities of storytelling, but this novel is tenderer and more visceral than the first three. His maniacally brainy (brainiacal?) narrative voice seems to have been steeped in and tempered by the romance of all the songs that permeate the story, songs both embedded and overt, real and invented.
A less rigorous writer might have turned this story into a sentimental, overwritten swamp. But thanks to Phillips's thwarting of our (and his characters') expectations, and to his objective, amused intelligence about the deep ways music affects us, he dances like Fred Astaire over any alligators and mangrove roots lurking in turgid waters.
The Song Is You is smaller, more focused and more character-driven than Phillips's earlier books, and it's not only a welcome new direction, but also a novel impossible to put down."
— Kate Christensen's novel "The Great Man" won the PEN/Faulkner award in 2008. Her new novel, "Trouble," will be published in June 2009.
San Francisco Chronicle – April 12, 2009
"He has managed, in four very different books in vastly divergent settings, to harness his flights of language to serve his imagination, and his imagination to serve literature…. The Song Is You takes on loneliness, alienation, middle age and what it means to feel passé and weighted down by your past…Yet despite these sober concerns, Phillips' sparkling prose makes for a seriously fun read."
— Heller McAlpin
Boston Globe – April 11, 2009
"By the end, I'd surrendered to its slow and sneaky pace, its oblique eroticism, its self-conscious but undeniable cleverness, and, yes, even become a grudging fan of its author… Creating an alienated (and alienating) protagonist is always a risky business. But Phillips deftly pulls off this balancing act, infusing his secondary characters with vitality."
— Julie Wittes Schlack
Washington Post – April 7, 2009
"It's a daring concept in a novel, this strange ballet between two damaged lovers… in "The Song Is You," Phillips navigates an ostensibly arid present that turns out to be richly human, filled with unexpected grace, surprisingly connected by cellphones and instant messages. Along with these up-to-the-minute merits, a burning urgency animates the tale. … But "The Song Is You" is more than a cliff-hanging love story. Phillips's descriptions of his characters are filled with startling intensity. … it is music — its visceral kick, its numinous wonder — that takes center stage… we find ourselves wandering a labyrinth of memory, our ears, like Julian's, filled with song."
— Marie Arana

New York Times (daily) – April 7, 2009
Salman Rushdie once commented on Michiko Kakutani's seemingly compulsive need to alternately praise and spank those she reviews. We are choosing to display here her praise for The Song Is You.
"[The Song Is You]… a novel that showcases Mr. Phillips's sparkling gifts as a prose stylist and demonstrates a psychological depth and emotional chiaroscuro … Mr. Phillips makes the daunting job of conjuring up a fictional singer and her music seem easy…[He] uses his gift for description to convey the power of music to retrieve buried layers of memory and emotion wordlessly, and to explore the dangers of taking the lyrics of a song too literally.
Amazon.com – April 1, 2009
Amazon Best of the Month, April 2009: A man who's not quite young anymore, his relationship trouble, and his iPod: at first glance Arthur Phillips's The Song Is You sounds like strictly Nick Hornby territory, but it turns out to be a lot closer to The Red Shoes, a story of love and art in which the two are confused and jealously compete. And as in The Red Shoes, but so rarely in other works of art, it's the art-making that carries the most power and mystery. Julian Donahue is a "creative": a skilled director of commercials who has come to know his limits. Cait O'Dwyer is a singer, and a bit of a comet that Julian somehow catches the tail of. Their courtship–as Julian evades a marriage split by an unbearable loss and Cait shoots single-mindedly toward stardom–is an intricately constructed pas de deux that is both surprising and convincing throughout. It's Phillips's first novel set in the present since Prague, and in its artful structure, style, and heart it's a match for that smart and charming debut.
–Tom Nissley

Bookpage – April 1, 2009
Phillips has achieved what only the best novelists can–he's written a book where the beauty of the prose is matched by the depth of characterization and the fluid movement of the plot. The Song Is You is complex and rhapsodic, heart-wrenching and satisfying, an absolute pleasure to read.
— Tasha Alexander, author of A Fatal Waltz
Kirkus – March 1, 2009
"A betrayed husband's fascination with a charismatic singer is given several intriguing twists in this subtle fourth novel from the versatile Phillips (Angelica, 2007, etc.)… As he did in his widely praised debut novel Prague, Phillips focuses microscopic attention on the intellectual keenness and emotional vulnerability of each of his straying, struggling principal character… the novel's clashing harmonies seduce and fascinate. And Phillips still looks like the best American novelist to have emerged during the present decade."
Publishers Weekly Starred Review – December 01, 2008
A television commercial director strikes up a bizarre relationship with the object of his infatuation in Phillips's enthralling fourth novel. Behind his hipness and attitude, Julian Donahue is going through an emotional crisis that started when his two-year-old son died of a freak infection. His wife, Rachel, reacted by vigorously cheating on him; Julian, meanwhile, went impotent. But his potency returns one night in his Brooklyn apartment as he listens to a CD by rising Irish singer-starlet Cait O'Dwyer. As his interest in her music and career grows into a full-blown obsession, Julian meets washed-up rocker-turned-painter Alec Stamford (who harbors a few of his own bizarre yearnings), and Julian is propelled to do more than mill around in the back of crowds at Cait's performances. Phillips is in top form and does a brilliant job of transcribing the barrage of Julian's sensory data into cool and flexible prose. This is a triumphant return for Phillips to the level he achieved in his wonderful debut, Prague. (Apr.)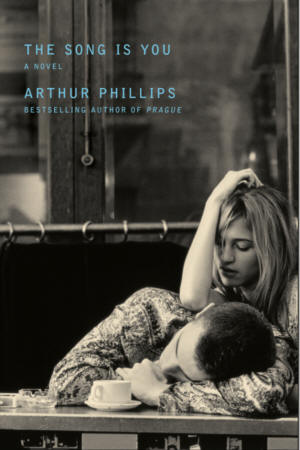 More About This Book
Buy This Book