"Matt Sanford's Waking: A Passage into Body is more than a memoir. It is a story of the most powerful kind. Waking follows an archetype that Joseph Campbell identified in his pioneering work on personal development, influenced and informed especially by world myths and the work of Carl Jung. It is a "hero's journey" of separation, initiation, and return. However, the hero of Waking is profoundly human. He is not larger-than-life, of mythological dimensions, or otherwise a hero to idolize and worship, but is an ordinary human being confronted with extraordinary circumstances.
Good stories do not simply take us with them but they also subtly weave themselves into the particular fabric of our lives. The story told in Waking is the treasure its hero brings to others upon his return from traveling through a forbidding land of pain and loss.
Waking invites readers to reconsider what is healing, the place of death in life, and the possibility of novelty within the trajectory of any given human life. Reflections on the wonder of an integrated human being, connected mind-to-body and person-to-community, run through the story like a golden thread. Waking shows that the connections that sustain us through extraordinary times are ordinary – all around us and within. Realizing them is an act of love and grace."
— Kristi Swenson-Mendez – Assistant Professor of Religious Studies, Virginia Commonwealth University
"Waking: A Passage into Body by Matthew Sanford is a gripping story that struck me on many levels. As a reader, I simply couldn't put the book down. As a practicing psychologist and instructor at the Adler Graduate School in the Twin Cities, I am always on the lookout for real life stories that can inform about the human condition. Sanford's story offers a powerful response not only to trauma, loss, and pain, but also to living within our fragmented society.
Not only would I like to make Waking required reading in my courses and recommend it to certain clients, I also believe it has valuable relevance for teen-agers who are undergoing the difficult transitions from childhood to adolescence to adulthood. This is a book that I hope will make it into the world."
— Catherine Furnberg – Instructor at Adler Graduate School and practicing psychologist
"Matt Sanford's book is a must-read for all students in allied health, health education, counseling, and rehabilitation professions. Through his own experiences and story, Matt conveys a powerful message of hope and healing to all readers. Any student working toward a career in the "helping professions" will gain invaluable insight by reading this book – insight to not only their patients, but to themselves as well. This insight, accompanied by increased compassion and understanding, can yield only positive results for future practitioners and patients alike. I recommend this book highly!"
— Jolynn K. Gardner – Ph.D., CHES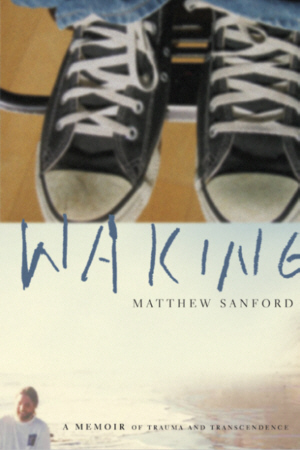 More About This Book
Buy This Book