LADY SUSAN AND HER DAUGHTER by Jane Rubino and Caitlen Rubino Bradway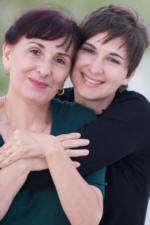 A Q & A with the authors about writing the book
Q: How did you each meet Jane Austen?
Jane: I first read Pride and Prejudice when I was about eleven, which may seem precocious, but we always had a large collection of books, including the entire Harvard Classics – and no cable, no internet! It took many years, and several re-readings, before I appreciated Austen's ingenuity and virtuoso prose, but well before college I had read all of her novels, all more than once, and Pride and Prejudice several times a year. It has remained my favorite – I can't think of a more balanced or better structured novel, though I do think that Mansfield Park gets better with each reading.
Caitlen: Mom always had these old, yellowed copies of Austen's novels; each copy was priced at about sixty cents! I didn't think of reading any of them until I was about twelve. That's when she showed me the 1981 BBC version of Pride and Prejudice with Elizabeth Garvie. I remember we had to stop the tapes because we were going out to dinner, and I sulked at the restaurant because I just wanted to get back to Elizabeth and Darcy. Later Mom told me it was based on a book, so I picked up her copy. I was a casual Jane Austen fan after that, until I had an intensive Austen seminar in college. It was amazing: ten Austen fans locked up in a room for an hour or so every three days. We went through all of Austen's work, including her juvenilia, The Watsons, and Sanditon, and finished off the semester by holding a tea and playing the Pride and Prejudice board game (I won).
My favorite Jane Austen novel is Persuasion, and when I read Sense and Sensibility I always empathize more with Elinor than Marianne.
Q: Why drew your attention to Lady Susan?
Jane: I had read Lady Susan quite a while ago, and happened to pick it up again a few years back with the notion that it might be converted into a Regency era mystery. I had written a mystery series, and at this time many mystery authors were launching second series or pairing with other mystery writers. Austen provided a good cast for a mystery story: Lady Susan Vernon, the beautiful young widow of Sir Frederick Vernon; her pretty, unsophisticated daughter, Frederica; her brother-in-law, Charles Vernon, who has evidently prospered in the wake of Sir Frederick's death; his wife and her aristocratic parents; the three candidates for Lady Susan's hand – the young heir, Reginald deCourcy, the frivolous noble, Sir James Martin, and the married flirt, Robert Manwaring; and Manwaring's disgruntled wife and his younger sister, on the hunt for a husband.
I asked Cait to be my co-author on the project. But then, in our very early discussions, we decided to abandon the idea of a Regency mystery for a recreation of the original work in the style of Jane Austen – more like something she would have written than something she would have read.
Caitlen: Lady Susan is the most difficult of Austen's work to characterize. It can't be grouped with her juvenilia – it's too sophisticated for that – and yet, while it is a complete work, it is not a fully realized novel. But since – unlike Sanditon or The Watsons – it's not an unfinished novel, we knew where Austen was going, and how each character would turn out.
Q: In the original novel, isn't Lady Susan the villain?
Jane: The plot of Lady Susan is the sort of melodrama that was very likely influenced by the popular fiction of Jane Austen's day: Lady Susan Vernon, "four months a widow," is described as a "dangerous creature" and "the most accomplished coquette in England," a scheming adulteress somewhat reminiscent of Les Liaisons Dangereuses' Marquise de Merteuil. Obliged to leave the home of her friends, Lady Susan imposes upon the hospitality of her late husband's brother, Charles Vernon, curries favor with Mrs. Vernon, encourages the attentions of Mrs. Vernon's younger brother, plots a forced marriage for her daughter, and fends off the interest of a married man.
In discussing a motive for Lady Susan's scheming, we took a look at the other widows in Jane Austen's novels. Women like Lady Catherine deBourgh and Mrs. Jennings were the exception – Austen's widows were more likely to be a Mrs. Dashwood, a Mrs. Bates, a Mrs. Smith, a Mrs. Norris, or a Mrs. Thorpe: women who were anywhere from reasonably comfortable to downright indigent, and whose circumstances highlight the indivisible bond between marriage and money that is never far from the surface in Austen's novels.
Caitlen: We decided very early on that we wanted Lady Susan to be a more sympathetic character, and to bring Frederica's story forward. Jane Austen had dual heroines in Sense and Sensibility, so it was a narrative approach in keeping with her style. Lady Susan was somewhat like Mrs. Dashwood, who married into a comfortable situation and who then lost her home and was forced to provide for herself and her child(ren) upon the death of her husband.
In fact, Lady Susan was written around the same time as Sense and Sensibility, and both were first written in letter form. The format, of course, had to go – the novel-in-letters is so unwieldy – but we wanted to retain the use of letters. Austen frequently advanced the plot or revealed character or information through letters. There are the letters of Mr. Darcy and Mrs. Gardiner in Pride and Prejudice, the self-centered correspondence Catherine Moreland receives from Isabella Thorpe in Northanger Abbey, and Frederick Wentworth's proposal in Persuasion. Because we wanted to use as much of the existing text of the novel as possible, many of the letters were converted to dialogue or narration.
Q: So if Lady Susan is now the heroine, who's the villain?
Caitlen: In Austen's original work, Charles Vernon is a generous, good-natured fellow, too good-natured to see Lady Susan's true character, much to the despair of his wife. We discussed how Austen's best known villains, such as Wickham, Willoughby, or William Elliot, were characterized by an outward polish that conceals an immoral interior. The text of Lady Susan suggests that Charles Vernon profited greatly from his brother's death and that Lady Susan and Frederica left their home a scant month after Sir Frederick died.
Jane: In the first set of drafts, even after the idea of a Regency era mystery had been abandoned, we suggested that Charles Vernon had played a hand in his brother's death, but this seemed a bit too extreme. Austen's villains are a venal set: Wickham, Willoughby, William Elliott, even Frederick Tilney are all on the hunt for heiresses, dalliances notwithstanding. They're also a rather profligate bunch, and it was not difficult to graft these characteristics onto Charles Vernon. It made his come-uppance a lot more fun to write, too.
Q: Why does Jane Austen cross cultures so well? Is it the linking of marriage to money?
Jane: I think that is a large part of it. You have to suppose that the prose itself, so distinctly English, might suffer in some translations, but even in cultures where the concept of romantic love is less significant the concept of an advantageous marriage is understood, as is the concept of marriage as a benefit that extends beyond the happy couple. "The luck of one member of a family, "says Emma Watson, "is luck to all." We can laugh at Mrs. Bennet's expectation that Jane Bennet's marriage to Bingley "must throw [her other daughters] in the way of other rich men" or at her anger when her neighbor's daughter, rather than her own, marries the heir to the Bennet property, but Austen always conveys the very real desperation behind what a woman – and, more particularly, a mother who might have little to no claim to money or property – must feel when saddled with several daughters to marry off.
Caitlen: But like all great writers, Austen also dealt with universal themes – love, greed, pride, regret. Everyone can identify with making a snap judgment and have it turn out wrong, or yielding to persuasion and wondering if it was the right thing to do. Combine that with Austen's flawless technique, the irony, the characterizations, the elegant structure, and the way she pulls all of it together in perfect balance.
Q. How did the actual co-writing process work?
Jane: We work differently, but in a way that compliments each other – I sometimes focus on the very small issues of language and word choice, while Caitlen has a very good eye for the editorial whole. Cait "writes in scenes" very well, while I enjoy working on dialogue.
Caitlen: The writing of the novel took longer than we expected. The first few months of work were purely research. We scoured the Internet, ran up the phone bill, and read, and re-read, Austen's novels. Did Lady Susan have an annuity or a jointure? (What is the difference between the two?) Did Frederica play a fortepiano or a pianoforte? What county should we put Ealing Park in? Is Sir Frederick a knight, or was Lady Susan's father a nobleman?
When we got into the actual writing, everything – from the plot to the characters to the language – had to be vetted by two sets of eyes. And my set of eyes was trying to get through grad school at the time. We'd talk out the plot, then each write chunks separately. Then we'd email pages back and forth and puzzle piece it together. It was an exhausting, exhilarating process, but we are proud to have been able to try restoring this slight and slighted work to its place in Austen's principle works of fiction.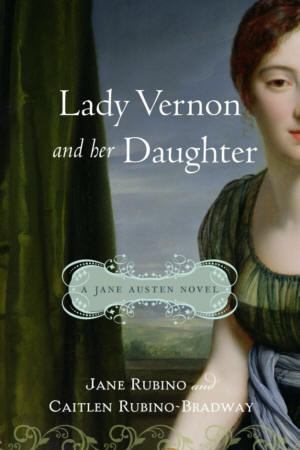 More About This Book
Buy This Book