Jane & Caitlen Rubino
About…
Jane Rubino (on the left) holds a BA from NYU in Dramatic Literature, Theatre and Cinema. She lives in Ocean City, NJ and is the author of a contemporary mystery series set at the Jersey shore, and a volume of Sherlockian novellas. She has also written several short screenplays that have been produced as student and independent films; one of the films was recently awarded a jury prize at San Francisco's annual WYSIWYG Film Festival.
Caitlen Rubino-Bradway holds a BA in English Literature and an MA in Publishing from Rosemont College. While in college, she interned with LeFrak Productions, Tor, and Jane Dystel Literary. She currently lives and works in New York City, where she has attended the Monday "day after" dissections, sponsored by the Jane Austen Society of North America, of the most recent series of Austen teleplays.

Both avid readers of Austen, Caitlen and Jane re-examined her six great novels in order to reproduce Austen's distinctive style and apply the fundamentals of her storytelling to expand this short work into novel length. Lady Susan and her Daughter, while retaining much of the original text, restores Lady Susan and Frederica Vernon to a vivid, authentic, and more recognizably "Austen" milieu: much like the Dashwoods (Sense and Sensibility), the Bennet sisters (Pride and Prejudice), and Anne Elliot (Persuasion), Lady Susan and her Daughter must navigate a society where a woman's security is at the mercy of an entail, where love is hindered by misunderstanding, where marriage can never be entirely isolated from money, and yet romance somehow carries the day.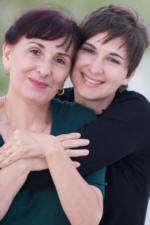 The Books
Additional Author Info