Why write about Jacob Marley? you may ask.
After all, Charles Dickens must have invented a hundred characters—maybe a thousand—more substantial than the ghost who haunts the opening of A Christmas Carol. Even Edwin Drood, who disappears in the thick of his own story, would give a writer more to work with.
But I ask you in return: What literary ghost is more evocative and more amenable than Marley, who has been brought to life on stage and screen by luminaries as disparate as Claude Rains and Nicholas Cage, Alec Guinness and Goofy? None, I submit. Not even Hamlet's old man.
So despite his transparency, there must be something to him.
The heart of it, I think, is how little we know about his character—how much Dickens withholds. We know that he and Scrooge were partners in a firm that had a warehouse and a bookkeeping operation. We know that he lived in a small apartment within a great house that was otherwise let to commercial enterprises. We know that he was greedy and cruel in life, and that his afterlife is a never-ending torment of misery and regret. Beyond that, little.
We do not know what Scrooge & Marley's line of business was, although we might guess that it had something to do with the exchange of goods. We do not know if Marley had an associate in the world beyond Scrooge. We do not know a single instance of whatever predations and cruelties characterized his life and colored his death. He is, in many ways, a blank slate.
We also know precious little about Ebenezer Scrooge, come to that, for although Dickens was many remarkable things, he was not a psychological novelist. We witness Scrooge's stinginess and self-obsession. We see that he spent some of his childhood years at a nameless boarding school. We know that he had, and lost, a fiancée named Belle, with whom he once worked for old Fezziwig. We know that he had a younger sister, Fan, now dead, by whom he has a nephew, the good-natured Fred, still living. We know that he now occupies, mysteriously enough, Marley's old rooms.
Above all else, we know that he represents, practically to the exclusion of any other identifiable personality trait, the very essence of greed.
And yet we believe in him. And yet he has endured.
In giving us Ebenezer Scrooge's miraculous change of heart, Dickens utterly negates our feeling that he didn't have a heart to begin with—that he was merely a construct, a signifier, a paper doll.
Such is the power of fiction to make us believe the unbelievable, accept the unacceptable, fathom the unfathomable. If it is correctly done, if it is genuine, it works upon our hearts and our minds and our imaginations all at once, and we go where it takes us.
Not so long ago, it got me started wondering about Jacob Marley. What kind of individual would choose to be the lifelong business partner of a man as cold and cruel as Ebenezer Scrooge? How did they first meet? What did Marley gain from his relation with Scrooge, and what did Scrooge gain from Marley? Were they the closest of friends or the most intimate of enemies?
I wondered exactly what line of business they were in, and what might have been Marley's role in carrying it out. I wondered what lay behind all of those doors in his spooky old house. I wondered, of course, how he died.
The excavation of his story took me to London at the turn of the nineteenth century for a look into the legal, business and maritime practices of the period. It required me to expand upon the character of Ebenezer Scrooge, accounting for his single-mindedness in business and his failure in romance and his strained relations with his family. It caused me to fill out the supporting characters of Fan, Belle, and Fred, and to introduce a handful of new characters of my own, both heroes and scoundrels.
It took me back to Dickens, too, for it would have been impossible to christen those businesses in Marley's house without seeking out his famous stockpile of memorable names: Mr. Krook and Miss Flite, Mr. Honeythunder and Mr. Grimwig, Mr. Pecksniff and Mr. Snagsby. (Only two of the names that I used come from somewhere other than Dickens: Bildad and Peleg, whom readers will remember as the owners of the Pequod.)
But enough about that, and back to Marley.
Every moment that I spent working on his story, I understood that if he was to die at the close of it, as Dickens had ordained, my chief task was to prepare him not just to exit my book but to enter A Christmas Carol. Nothing else mattered, really. So if I have managed to conjure a flesh-and-blood Jacob Marley who can convincingly arrive in that dimly-lit room and hear Scrooge ask, "What do you want with me?" and answer, with all his transparent heart, "Much!" then my work is done.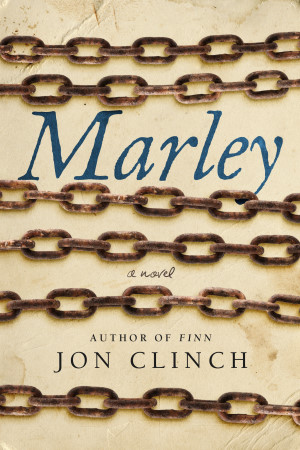 More About This Book
Buy This Book