New York Times — October 22, 2006
Bob Harris, who won five straight games in 1997 (the maximum allowed at the time) and has played in several tournaments of champions since…Jennings in "Brainiac," spends much of his time apologizing for being one. But Harris, in the smashingly titled "Prisoner of Trebekistan" (after Alex Trebek, the show's host), brashly spends much of his telling you how to become one….Harris has been, among other things, a stand-up comic, and it shows in his book, in lively phrases and an ear for the incongruous …. Harris fills his book with tips for would-be "Jeopardy!" contestants, including a description of the ridiculous lengths he went to in studying for his appearances and the damage that cramming did to his social and love lives. He is a skilled storyteller, and the play-by-play he provides for his various matches pulls you in like a good sports story.
— Neil Genzlinger
Publishers Weekly — July 17, 2006
In this eccentric, energetic and engaging memoir of his long run on America's favorite television quiz show, Harris, gives readers the lowdown on life as "one of the show's big winners— and big losers." He promises to tell all, and he does, from the show's beginning in 1963 to his own blow-by-blow experiences as a contestant. …Like many a standup routine, his narrative zigs and zags back and forth in time and topic, but like the best of routines, it is sharply timed, pulling out many swerves and surprises to keep the reader alert.
Kirkus Review – July 15, 2006
This cleverly executed volume displays the obligatory acumen and erudition, as well as considerable wit and writing ability. After all, Harris has been a stand-up comic, a radio humorist, and a TV crime-show writer. His text reports on how he won, lost, and played the game a decade ago. Harris did frequent finger exercises, the better to hit the buzzer like a Jedi. He assiduously studied reference works jammed into apartments shared with supportive girlfriends. He memorized state flowers and national capitols, obscure body parts and foreign film directors, vice-presidents of the US and read the novels of E.M. Forster. He explored geographical mysteries and brushed up on his Shakespeare…. It's the epic tale: Appearing on Jeopardy! was a defining moment in the author's life. Yet here, he goes beyond backstage information and tips on mnemonics to build a substantive memoir of family and growth. It's about love and a burgeoning devotion to history and science, to fun and facts and connections. Of natural interest to Jeopardy! buffs, but solid entertainment as well for readers who don't tune in.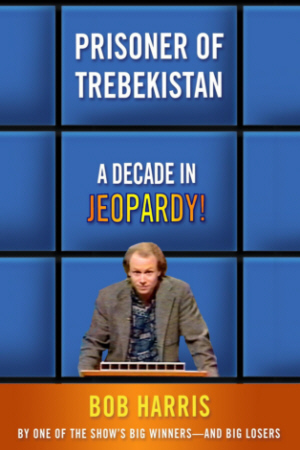 The Books
More About This Book
Buy This Book