St. Paul Pioneer Press' Mary Ann Grossmann has a conversation with Judith K. Healey the author of THE CANTERBURY PAPERS – January 4, 2004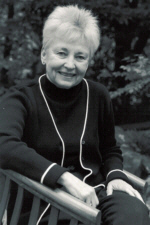 Consider Judith Koll Healey's career, during which she's met thousands of Minnesotans:
She traveled around the state teaching grassroots lobbying for the Joint Religious Legislative Coalition in the mid-1970s. She's worked with Minnesota's corporate, private and community foundations for 30 years.
She's a nationally known workshop leader and author of resource material for the Council on Foundations based in Washington, D.C.
She's studied intercultural conflict resolution at the London business school as part of a Bush Foundation fellowship and as an observer at the International Peace Academy diplomatic training session in Vienna.
Now, with publication of "The Canterbury Papers," Healey can add "novelist" to her list of accomplishments. Healey's interest in medieval history, combined with a serious illness, compelled her to write a story in the voice of French Princess Alais Capet, who was caught in the emotional crossfire between Henry II of England and his queen, Eleanor of Aquitaine.
"I loved my brother's Robin Hood books when I read them in second grade, and King Richard (Henry and Eleanor's son) was a childhood hero to me because of the crusades," Healey says, settling into a chair in the sunny office of her home in Minneapolis' Lynhurst neighborhood. Her husband, Mike, a retired St. Paul attorney, is downstairs taking a break from snow shoveling. Their adult sons Sean, Paul, Colin and Michael Brian are out of the nest and live in the Twin Cities metro area.
"I picked up a book on Eleanor of Aquitaine when I was working in Washington in 1989," Healey recalls. "I did other reading and learned that chroniclers of the time hinted that Alais may have had a child with Henry. That story captured me. If there had been a child, he would have had a legitimate claim to the throne of England. What would have happened to him?"

That is the mystery at the heart of "The Canterbury Papers."
Alais, daughter of King Louis of France and a Spanish princess, grew up at the court of Eleanor of Aquitaine because she was betrothed to Richard.
Anyone who's seen the film "The Lion in Winter" will remember Peter O'Toole, as Henry, dragging poor Alais by the wrist, shouting that she will marry someone. But there was no wedding, and the princess eventually returned to her brother's court in France.
Healey's novel begins in 1200, when Alais receives a letter from the elderly Eleanor, whom she loved and hasn't seen for years.
The imperious Eleanor, who was married first to the king of France and then to Henry, wants Alais to retrieve some letters she'd written years earlier to the martyr Becket, which are hidden behind an altar at Canterbury Cathedral. If Alais does as she's asked, Eleanor will tell her what happened to the son she had been told died at birth. But Eleanor knows that her only surviving son, King John, is terrified that the now-grown child will be found and that he will do anything to get information from Alais.
When Alais journeys to Canterbury, she encounters a corpse and a thief who steals her precious jewel, inscribed in Arabic. She's captured by John, portrayed by Healey as a cruel man capable of murdering his nephew. There are other mysteries: Should Alais trust handsome Prior William, whom she and the princes teased when they were growing up? What are the powerful and secretive Knights Templar up to?
When Healey found that biography of Eleanor in '89, she was recovering from two surgeries and from the effects of Epstein-Barr virus.
"I'm a Type A personality, I was commuting to Washington to work with the Council of Foundations, and I still had kids at home. No wonder I got sick," she says. "It was very hard. I couldn't get out of bed, I had terrible arthritis and insomnia. My shoulder froze right after surgery. I thought I'd die."
Healey finally went to a Massachusetts clinic that offered alternative therapies, such as acupuncture and diet/nutrition advice, and started doing yoga. Except for a minor relapse in '93, she's healthy. She runs her own business, JKH Executive Consulting, doing strategic planning with some 60 family foundation boards in 10 years. She also manages the Weyerhaeuser Family Foundation and the Laura Jane Musser Fund.
"My illness opened other areas for me, such as writing something that wasn't connected to my work," she recalls. "I'd had short stories published in small literary magazines in the 1980s, but I'd given up writing fiction."
That changed in 1995, the year she completed a master's degree in human development from St. Mary's University that enhanced her work with group dynamics.
"Mike and I were in France, staying in an apartment near Nice," Healey recalls of the day she started to write her novel in longhand.
"I began to muse about Alais, wondering if she was the delicate sprite shown in 'Lion in Winter' or whether she was made of sterner stuff. I had an idea of women in the Middle Ages as pawns but there have been models of assertiveness, strength and talent in a number of women of that time, including Eleanor. I got an urge to write the story, as if I were Alais Capet herself, explaining my feelings for Henry and the loss of my babe."
To flesh out Alais' character, Healey gives her a withered hand and a highly intuitive nature, blessed with what people in the middle ages would have called "second sight."
Healey believes the two most important people in Alais's life — Henry and Eleanor — had a "tremendous impact" on Western civilization.
"I liked Henry more than most people, even though he was a difficult man," she admits. "Eleanor was brilliant but never allowed to rule. She and her sons did intrigue with King Louis, her first husband, against Henry. Where Henry fell down was that he did not understand the psychology of his own family. He told his sons what they would get but wouldn't give it to them. It's a sad story of that man and his sons, almost like Greek tragedy."
When it was time to find an agent for her finished manuscript, Healey tracked down Marly Rusoff, who owned the Dinkytown bookstore where the Loft was born. The women knew one another from the days when Rusoff's former husband, Eddie Felien, ran for Minneapolis City Council and Healey threw a fund-raiser for him.
Rusoff was delighted to hear from Healey.
"Judy is one of those people you meet who leave an impression of a kind of witty brilliance," Rusoff says. "I always knew she had talent, but it never occurred to me she would be a novelist."
Healey wrote some of her book at St. Benedict's Monastery in St. Joseph, Minn., where women scholars live while they work on projects through the Studium program.
"It was great writing a medieval novel in the atmosphere of a monastery," Healey recalls. "There were echoes of things I remember from my childhood, when my two uncles were Benedictine monks at St. John's Abbey in Collegeville."
Healey's father, Leo Koll, was also going to be a monk, but he left the monastery. Because he worked for the Chamber of Commerce, the family moved often. Judith's mother, Beatrice, was a medical technician, and her brother Larry (owner of those Robin Hood books) is a retired St. Paul attornery.
After graduating from Winona Cotter High School, where she was a member of the state championship debate team, Judith attended St. Benedict's (where she's now on the board) and the College of St. Theresa, finishing her degree in English with a specialization in continental literature at the University of Minnesota.
She and Mike, who met through mutual friends, were married in 1964. After accepting a teaching position at Our Lady of Peace High School, Healey went back to the university for a degree in education.
Through most of the '80s, Healy worked at the General Mills Foundation and as vice president of the Northwest Area Foundation and the St. Paul Foundation. Her mentor was former Bishop James Shannon.
Whatever Healy was doing, travel has been a part of her life. She's familiar with all the sites in England and France that are in her novel, including the palace of the Dukes of Poiters, where Eleanor held court until Henry yanked her back to England, and the Conciergerie in Paris, where the French royal family lived until they completed the Louvre. Canterbury Cathedral is now a busy tourist attraction, so Healey based her description of the great church on the Abbey of Saint-Pierre in Moissac in southern France, which has a more medieval feel.
"Traveling in Europe put me in touch with the possibility of knowing characters from those times,'' Healey says. "I don't believe their emotions — love, hate, ambition, tenderness and, sometimes, compassion — are fundamentally different from our own."
And it's probable that the hundreds of Minnesotans who've met this 64-year-old dynamo won't be surprised that she's started a new career. Her whole adult life seems to be about stretching her intellectual muscles.