Saint Paul Pioneer Press (Minnesota) — October 25, 2005
An interview with Alice Kaplan
By Mary Ann Grossmann
Unequal justice: Author uncovers sad WWII story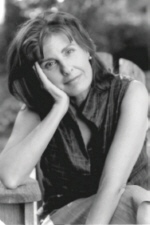 When Alice Kaplan was growing up in Minneapolis, she liked to read through papers in her father's library. Sidney Kaplan, who died when Alice was 7, had been a prosecutor at the Nuremberg war crimes trials, and his daughter learned to love research by reading his letters, memos and transcripts.
Kaplan is now a professor at Duke University in North Carolina, where she founded the Center for French and Francophone Studies. She has a passion for France and for "finding people whose stories are missing or unknown."
Two of those stories are in her new book, "The Interpreter" (Free Press, $25), which looks at how African-American soldiers were treated in the segregated Army during World War II.
Kaplan dissects the military trials of two soldiers — one black, one white — who were passing through western France's Brittany region after D-Day in 1944.
The black man, 21-year-old Pvt. James Hendricks, was found guilty of murder and attempted rape. He was hanged in an abandoned chateau in the village of Plumaudan.
The white man, decorated D-Day hero and officer George Whittington, was acquitted of murdering a French resistance fighter.
A central character in Kaplan's book is Louis Guilloux, a much-admired writer on the French left who served as U.S. Army interpreter for five courts martial. In 1976, Guilloux published "OK, Joe," a fictionalized account of the confusing time when the U.S. military was liberating occupied France.
Kaplan was given a copy of "OK, Joe" by a writer with whom she worked.
"I was struck by this French novel with a funny title," she recalled in a phone conversation from her Left Bank apartment in Paris.
"Guilloux painted all these scenes in which he discovered Americans. He was very conflicted. He loved the officers he worked with. But he found the system brutal and found segregation bizarre for an Army that was liberating Europe from Nazi genocide. He described case after case of black soldiers condemned to death and the surprising case of a white officer who was acquitted. I wanted to find out how close his fiction was to actual cases he worked on. I knew he was a writer who used historically accurate material. That started me sleuthing."
NOT WORTHY OF COMBAT
Kaplan's research began in the Army's JAG Legal Center and School at the University of Virginia in Charlottesville, where she found papers detailing the review of Hendricks' sentence.
"One of the things that shocked me," she says, "was that the men appointed as defense counsel in cases like Hendricks' were generally taken out of the ranks of junior combat officers who may not have more than a day to read the court martial manual before defending someone whose life was in danger."
Even before Hendricks was arrested, he had strikes against him as a black soldier.
Kaplan points out that before 1948, when President Harry Truman integrated the Army, African-Americans were not thought worthy of being in combat. Trained at Camp Van Dorn in Mississippi, where conditions were miserable, these men performed what the Army considered menial work. Even their officers were dealt with as inferiors.
Adding to suspicion of black soldiers was a memo sent by George Patton, commanding general of the Third Army, expressing concern about "crimes of violence" against French citizens. He singled out "service troops," code for African-Americans.
"I found that memo amazing. I jumped out of my seat when I read it," Kaplan says.
So, it's not surprising that when a drunk Hendricks shot through the door of a French family's home, accidentally killing a peasant inside, the system dealt with him harshly.
Hendricks' case wasn't unusual. Kaplan found that 70 men were executed for capital crimes in the European theater of operations between 1943 and 1946. Fifty-five of them were African-Americans, even though only 8.5 percent of the Army was black.
RACIAL DISCREPANCY
Hendricks was also charged with rape, although it wasn't clear what he actually did to the widow in that farmhouse.
"Commanding officers decided which soldiers came up on charges of rape, and there was racial discrepancy," Kaplan says. "If a civilian woman accused a white combat officer of rape, as likely as not he would be sent back to combat and not prosecuted. If you look at the statistics, there are a tiny number of prosecutions for rape and murder. You'd think this is a very well-behaved army, or there are a lot of people who aren't being prosecuted. So statistics need to be interpreted."
That's why her book's title has several meanings.
Kaplan's research took her from Kentucky to Scotland to Brittany. She was the first civilian allowed into Plot E, a secret, closed-to-the-public part of a cemetery in France where Hendricks and 95 other executed World War II soldiers are buried.
France has been a big part of Kaplan's life since she was 15, when her mother sent her to boarding school to learn the language. Leonore Kaplan died in 2000, but Alice still has relatives here. Her uncle Sheldon practices law, and her brother, Mark, is an investment banker. Her cousin, Ann Phillips, is the mother of writers Arthur and Michael Phillips.
Kaplan will be in St. Paul on Wednesday to read from "The Interpreter" at Macalester College. She hopes the book helps readers view the past in new ways.
"We always think that Jim Crow and segregation was a Southern problem. But the Army was the whole country," she says. "I grew up, like we all did, thinking of World War II as a shining moment when we were good and knew what evil was. This casts a shadow that doesn't take away from the heroism of liberation. It allows us to understand some of the things we're still struggling with."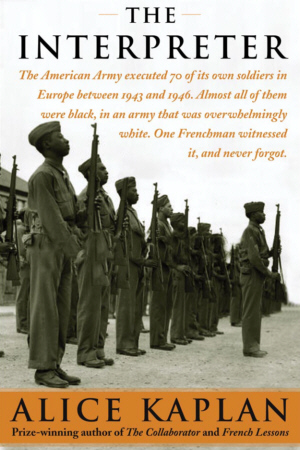 More About This Book
Buy This Book