I began writing The Falling Woman more than six years ago. The book tells the story of Charlie Radford, an ambitious accident investigator but a failed pilot, whose flying career was cut short by a medical condition. Eager to prove himself, Radford arrives at the scene of his first major plane crash only to discover a deeper mystery: found in the wreckage is a passenger who may have fallen from the sky and survived. Inspired by the incredible, true stories of six people who survived mid-air breakups, The Falling Woman interrogates what it means to be singled out by luck or destiny, and to fall from an airplane and live.
The original idea for The Falling Woman emerged from my own journey as a fledgling aviator. I grew up obsessed with flying, and dreamed about being a Navy pilot. I spent countless hours of my youth staring at vapor contrails in the sky, identifying airplane silhouettes, and listening to the trembling whir of turboprops on winter nights. Books about flying—Saint-Exupéry, Richard Bach, and Tom Wolfe—were my scripture.
Well on my way to achieving my dream, I suffered a seizure in the cockpit of a Navy training jet. My flying career ended for good that day. I was 23.
Beneath the surface of The Falling Woman lies the deep and rich mythology of aviation. Why did humans yearn to fly? Why did we take such great risks to conquer gravity? The story of Icarus, the boy who flew too close to the sun, mirrored my own narrative. Metaphorically at least, I had fallen from the sky with melted wings and, on a spiritual level, a big part of me died.
We seem to walk a steady path in life. We work, love, raise our families. The future begins to feel predictable. But sudden upheavals—disease, tragedy, and death—are universal. One day the world seems to be humming along, and then you suffer a seizure or fall out of an airplane. The grand, dramatic event must be endured, but out of the violence and chaos of the plane crash comes a more universal struggle: learning how to exist again in a world that no longer makes sense. These jarring disruptions can either shut down the afflicted, or serve as a wake-up call for the human soul
When Charlie Radford stands before the smoldering wreckage, he wonders, where do I begin? When Radford searches for evidence to prove the truth regarding the existence of a lone survivor, the Falling Woman, his rational world crumbles. I shared similar doubts when I started writing The Falling Woman. How would I arrange the pieces of this story? How would I make sense of these characters and their complicated worlds? What did it all mean?
The loss of my pilot's wings eventually led me to writing fiction. The Falling Woman has helped me reconstruct a dream.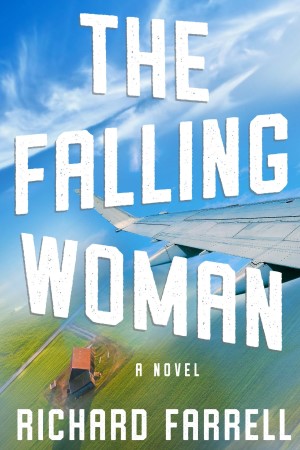 The Books
More About This Book
Buy This Book