Simon Tolkien
About…
Simon Tolkien was born in England in 1959 and grew up in a small village near Oxford. His grandfather was J. R. R. Tolkien, the author of The Lord of The Rings.He studied Modern History at Trinity College, Oxford and then went on to become a successful barrister specializing in criminal justice where according to British custom he appeared on behalf of both the prosecution and the defense. He now lives with his wife and two children in Southern California.
Simon's first novel, titled Final Witness in American publication, was published by Random House in 2002 and has been translated into eight languages. Although he has always admired his grandfather's books, Simon's own writing draws more heavily from his experiences as a trial lawyer and his abiding interest in the legal and social politics of 20th century British society.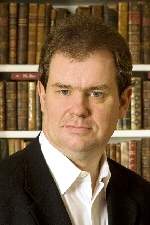 Visit Simon's web site...
The Books
Additional Author Info