I am good in the kitchen, self-taught over cookbooks and back issues of Bon Appetite, a product of living in small towns with no restaurants, of traveling, and generally being stupid or fearless enough to try anything myself, especially if friends are coming for dinner. I've always thought this abiding pursuit was linked to my life as a novelist, and maybe something of what balances it. Because it takes years to complete a novel, but I can pull together meal in six hours and still transport you, to Spain or your grandmother's kitchen, still please and satisfy, make you want more. There's such an echo of storytelling in cooking well, a plan in a recipe that works its way into a full sensory experience, that same transformation of the two-dimensional words on the page to something else altogether, in your brain and your body.
To these ends, I keep a paper clothes hanger on my desk that I took from my ex mother-in-law's summer house. She rents the house in August, and someone had scribbled a recipe on the liner of the hanger for drinks enough for a crowd: twenty-four limes, sugar by the cupfuls. From this, I can imagine an entire evening.
It's really more than the recipe, or the paper hanger, or the fact that I found it in the far back of the closet when I arrived to visit my kids, who spend five weeks in the summer with their dad. It's the fact I've known this house for half my life, and yet it isn't mine. One month a year, another couple fills the closets with their clothes and drinks trendy drinks, whatever suspended-state routines bring order to a vacation long enough to coast toward real life. I've found other things: a single false nail, slipped beneath the cushions of the couch, prescription bottles left behind for parts of a man that have let him down in the bedroom, mismatched Legos and plastic trucks that tell me this was not always the case. I know where to look here, and I can make this marriage up from what I find.
Ten years ago, reading Joan Reardon's biography of MFK Fisher, Poet of the Appetites, I had the same feeling when I came across the chapter that speculated on the events that led Mary Frances to trade her first husband for her second, that I had found something much bigger and richer than the space it took up on the page.
The facts of the matter are spare. Mary Frances and Al Fisher had been married for five years when they met Tim and Gigi Parrish. Gigi was a starlet and Tim much older, a painter and a novelist, a restaurateur. The two couples fell in together, and it was with Tim's encouragement that Mary Frances began to write, literally for him, little essays she'd read aloud at dinner parties, that they would talk about later, as writers.
The biography tells it like this: in an interview late in her life, Gigi Parrish said that sometime in the fall of 1934, when she returned from two weeks on tour with her troupe of starlets, Tim met her at the station and confessed that a funny thing had happened while she was away. Mary Frances had invited him to dinner. He'd assumed Al would be there, and he was surprised when Mary Frances arrived alone—not half as surprised as later, when she appeared at his bedroom door, took off her clothes and invited herself into his bed.
I had previously known MFK Fisher as elegant and arch, the owner of enviable, delicious prose. I read How To Cook A Wolf in college, her collection of kitchen essays about how to survive wartime rations, but truly a book about survival itself. Also, Consider the Oyster, a lush meditation from the biological (oysters change their sex throughout their lifetimes) to the gastronomic, including recipes, but not focused there. Fisher wrote about the pleasures of eating, not just the beauty of food, but what it means to satisfy our hungers. I loved a biographical version of her so brazen and driven as to throw herself at what she wanted.
But too, Tim had told this story to his wife, and it paints him in a particularly helpless light. As I began to imagine the landscape of his marriage, I had to wonder what he hoped would come of his confession. According to Gigi, it didn't matter; she'd fallen in love with another man, someone she later went on to marry and live with for the rest of her life. What was Tim trying to gain back with his story of Mary Frances's seduction, or cover up?
Marriages fascinate me. My parents have been married for some 45 years; I divorced after 20. I know so few people who are consistently happy in their marriages, and even the ones that seem built on all the good things can still plummet frighteningly quickly. And yet there is something so elastic in this relationship founded on choice.
When I began this book, my marriage had just barely survived the writing of my last. Some of the things that went wrong were foundational to our relationship, tensions about money and family. But others seemed to rise out of the practice of spending so much time inside the heads of characters I didn't talk about, the building of a double life.
Through this lens, I began to see the grander shape of what MFK Fisher never revealed about her relationships with Al and Tim in her own essays, and what Reardon, bound by her sources, could never have described. She was learning how to write, how to want something dangerous and what it would cost. She was learning exactly who she was, and that was wrapped up in all kinds of ambiguities. I knew it would make a hell of a novel.
The dinner between Mary Frances and Tim became the opening to The Arrangement, and eventually a kind of map for the shape the novel would take. I wanted to see attraction develop from both characters' points of view, but the transitions needed to be smooth, a conversation. I wanted to understand the consequences of Mary Frances's actions but stay tight to the moment at hand, something that later lent itself to the leaps forward in time, this organic veil of storyline revealing who she would become as a result of what was happening now. Again and again as I drafted this manuscript, this first scene between Tim and Mary Frances seemed to have the key to all my locks.
There were many, many locks. It's a presumptuous thing to try and bring one of your literary heroines to life on the page, to inhabit her thoughts and feelings, and this novel took me ten years to complete from the time I began thinking about it. But I began with trying to imagine the kind of self-confidence, self-control that might make her think she could make the choices she made and live through them. I imagined the weeks upon weeks of electricity she generated, between herself and Al, and Tim, her typewriter and her kitchen, and I just kept thinking how she made it for herself, all the while making her way as a writer.
And I loved the fact it began with a meal.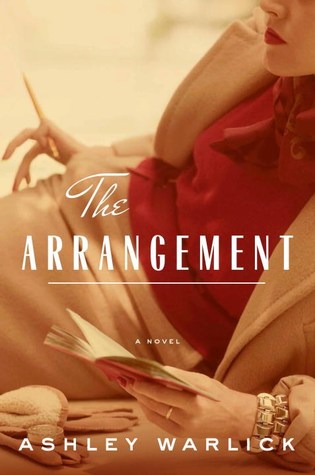 The Books
More About This Book
Buy This Book