Review Excerpts
Oprah Magazine – May 1, 2014
With her children grown and out of the house, Carol Wall is obsessed—perhaps overly so—with ripping out her azaleas. That is, until she meets a certain Giles Owita, a Kenyan gardener, supermarket bagger, general-life philosopher and perhaps one of the most refined and gracious characters to ever hit the page (except that he's real). Take, for example, his view on Wall's terrifically protective dog. "Your little beagle peered out at me with happy barks of warning from his window by the door," he writes in a note. "You are fortunate to have his services." Soon, Owita is teaching Wall not only how to take care of her yard, but how to listen, most especially to her aging parents. A warning for the shy: The basic goodness of Owita's attitude may cause you to beam spontaneously as you read, leading to odd looks from strangers at the coffee shop.
— Leigh Newman
New York Times Book Review – April 27, 2014
"…You won't learn much about gardening in this beautiful book, though it seems Owita worked miracles on some unloved yards. But you will put Wall's memoir down with a new appreciation for how far roots can travel for nourishment, especially those that spring from our hearts."
BookReporter.com – April 1, 2014
The delicate area of healing the wounded soul is where MISTER OWITA'S GUIDE TO GARDENING truly shines, moving beyond memoir and biography to recapture the reflection and mindfulness that too many of us overlook in the pursuit of material and social success. It was only after discarding her social fears and resistance to superior knowledge that Wall realized her soul was being gently healed along with her garden; it was an even greater revelation to learn that she was unknowingly healing the deeply scarred soul of her teacher.
Like any beautiful landscape, Wall's account of this most unusual collaboration between an American homeowner and her gardener is the result of much hard work in digging through the stony ground beneath its elegant surface. As beautifully as she writes, she mindfully allows some of those hard rocks and weeds of life to interrupt the flow, reminding us that true beauty is always a profound blend of bitter and sweet.
MISTER OWITA'S GUIDE TO GARDENING doesn't end happily for all, and neither does life. But it does read beautifully in all the ways that really count.
Bookpage – March 1, 2014
Cultivating an unusual friendship
At first, Carol Wall's memoir, Mr. Owita's Guide to Gardening, sounds like a book you might have read before: An unlikely friendship develops between two people who appear to have nothing in common. Giles Owita is an immigrant from Kenya who works part-time as a gardener. Wall is a high school English teacher and writer whose work has graced the pages of magazines like Southern Living. But things are not as they seem. In time, Wall will regard Owita as the greatest professor she has ever had. And you will be convinced she is right.
Their relationship begins predictably. Wall asks Owita to help her reclaim her lawn, an eyesore that is becoming the worst looking yard on the block. He helps her plant a few beds, tend to the grass and (memorably) prune a tree. But soon the relationship veers off script. We see some of the depth that is to come in a letter Owita sends to Wall shortly after viewing her lawn. "I took the liberty of stopping by your compound today, even though your vehicle was not in the driveway… You have a lovely yard. Of particular beauty are the azaleas." His eloquence impresses the English teacher in Wall, who muses, "Compound. It sounded elegant. Exotic." It is the beginning of a rich conversation.
Despite their differences in race and background, both Owita and Wall carry family and health burdens that will be lightened by sharing them. Through their friendship, both truly help each other—in real tangible ways that change each other and their community.
I couldn't put this book down. I found myself liking the principal characters from the opening pages, and my affection for them never wavered. If you enjoy inspirational memoirs or gardening books (or both), this moving account of a life-changing friendship is for you.
— Kelly Blewett
People Magazine – February 22, 2014
If some of us are born with a green thumb, Carol Wall's was decidedly brown. Wall had hated flowers since childhood because they reminded her of the funeral of her sister Barbara, who was born with Down syndrome and died at age 2. Now 52 and living with her husband in a tidy Roanoke, Va., neighborhood, Wall admits that her yard "wasn't just rough around the edges. It had become a genuine embarrassment." When she discovers that a local man has transformed a neighbor's garden into a backyard oasis, she hires him to do the same. But what Wall learns from Kenyan immigrant Giles Owita is much more than how to prune her birches and fertilize her azaleas. As Wall struggles with multiple rounds of breast cancer and the health issues of her aging parents, Owita is dealing with his own secret illness and displaced family members. Their student-teacher relationship blossoms into a friendship as each learns to see life through the other's eyes. In this profoundly moving memoir, Owita teaches Wall how to find grace amid heartbreak and to accept that beauty exists because it is fleeting – as in her garden, as in life.
— Andrea Walker
Kirkus – January 27, 2014
Serendipitous life lessons from an unexpected source.
Though she admittedly lacked a green thumb (or the inclination) necessary to beautify the environs of her home, 52-year-old Wall enlisted the aid of her neighbor's gifted Kenyan gardener. Giles Owita, an unassuming landscape artist outfitted with a "coiled energy" and a "navy work suit with bright white leather tennis shoes," not only beautified Wall's yard; their seemingly innocent relationship opened her eyes to international culture and nature ("Giles broke me—cured me—of my dread of flowers") and expanded her capacity for bliss. His arrival in her life was a timely one, as the author and her husband, Dick, had endured a year shaken by tragedy and illness. A breast cancer survivor, Wall had begun the heartbreaking ordeal of relocating her elderly parents to an assisted living facility, and her three children all suffered medical and developmental maladies. Throughout their many seasons together, Wall and Owita embarked on a cross-cultural exchange of histories, ideas, warm wisdom, respect and reinvigorating landscapes. Through her neighbor, the author discovered Owita's surprisingly extensive horticultural education and a series of mutual commonalities, including familial strife and a cancer diagnosis. The pair, along with Owita's wife, Bienta, grew ever closer within a unique friendship that Wall, in consistently articulate, affably crafted prose, compares to "a river that sometimes split into two separate streams, but always came back together again." Subtle changes began to transform Wall's outlook on life, and gradually, the author allowed herself to appreciate the grand spectacle of her lush backyard oasis. Owita not only performed an aesthetic miracle on Wall's property, but he also educated, enlivened and transformed her life and surroundings in graceful, heartwarming and rewarding ways.
A pleasure to read. Wall's bittersweet story of human kindness has universal appeal.
Booklist – December 15, 2013
"She knew nothing about gardening. He knew everything. She was a well-to-do white woman. He was an impoverished immigrant from Kenya. And yet, in the garden he transformed for her from a patch of weeds into a flowering paradise, Wall and Owita found common ground in the triumphs and tragedies they shared. Both would admit it was an unlikely friendship. She was a fretter, consumed by things she could not control: her recurring cancer, her father's Alzheimer's, her mother's stroke. He had a tranquility and acceptance that was mystifying in the face of all he had had to endure: a daughter left behind in Africa, a Ph.D. in horticulture he couldn't use, forcing him to subsist on part-time jobs, and, worst of all, the devastation and shame of being HIV-positive. Both had their shares of heartache over children and parents and life-threatening illnesses that challenged them in unimaginable ways. In this heartbreaking yet heartwarming paean to the joys of friendship and gardening, Wall crafts an elegiac tribute to an extraordinary man."
— Carol Haggas
Publishers Weekly Starred Review – December 9, 2013
"In this moving memoir chronicling the many lasting rewards garnered from an unexpected friendship, writer Wall enlists a neighbor's gardener, a man from Kenya, to help her maintain her garden. What begins as a purely professional relationship, with Wall hoping to learn more about gardening, blossoms into an intimate friendship. Wall, a breast cancer patient, admits that, before she met Giles Owita, her outlook on life was less than sunny. Always an introvert and prone to social gaffes, Wall was dealing at the time with her parent's decline. Slowly, over three years, Owita, a quiet and unassuming man, transforms Wall's unkempt lawn into a living masterpiece, showing Wall the beauty inherent in everyday life. While transmitting the knowledge for growing a bountiful garden, Owita passes along how one might live a satisfying life. "Each time I walked away from Giles, I felt either enlightened by his brilliance or unburdened of some of my worries and sadness." Wall eventually learns of the personal, family and health issues endured by her friend, marveling at his grace and strength. This tender narrative gently probes the complicated terrain of American race relations, dealing with serious illness and facing the death of loved ones."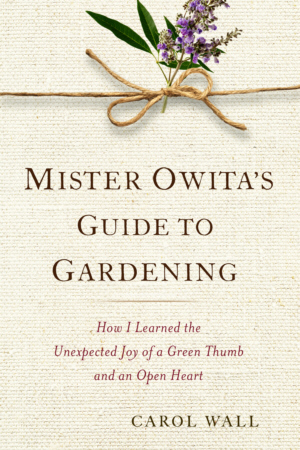 More About This Book
Buy This Book