Thrity Umrigar
About…
This author is no longer our client. The titles you see on this web site are still represented by our agency in US. Call or email with questions.
Thrity Umrigar is the author of the national bestseller, The Space Between Us, which was also a #1 BookSense pick. The novel has been published in over twelve countries. Her first novel, Bombay Time, was published to critical acclaim in 2001. She is also the author of the memoir First Darling of the Morning, and a new novel, If Today Be Sweet, to be published in June 2007.
Thrity was born in Bombay, India and came to the U.S. when she was 21. As a Parsi child attending a Catholic school in a predominantly Hindu country, Umrigar had the kind of schizophrenic and cosmopolitan childhood that has served her well in her life as a writer. Accused by teachers and parents alike of being a daydreaming, absent-minded child, she grew up lost in the fictional worlds created by Steinbeck, Hemingway, Woolf and Faulkner. She would emerge long enough from these books to create her own fictional and poetic worlds. Encouraged by her practical-minded parents to get an undergraduate degree in business, Thrity survived business school by creating a drama club and writing, directing and acting in plays. Her first short stories, essays and poems were published in national magazines and newspapers in India at age fifteen.
Since writing fiction seemed too preposterous a way for a kid from India to earn a living, Thrity did the next best thing—she became a journalist. After earning a M.A. in journalism from the Ohio State University, she worked as a reporter at the Lorain Journal. She then worked for the Akron Beacon Journal for the next 15 years, as an award-winning reporter, columnist and magazine writer. She also earned a Ph.D. in English from Kent State University. In 1999, Thrity won a one-year Nieman Fellowship to Harvard, which is given to mid-career journalists.
While at Harvard, Thrity wrote Bombay Time. The publication and success of the novel allowed her to make a career change and in 2002 she accepted a teaching position at Case Western Reserve University, where she teaches creative writing, journalism and literature. She also does occasional freelance pieces for national publications and writes for the Washington Post's and the Boston Globe's book pages.
Thrity lives in Cleveland Heights, Ohio.

Awards and Special Recognition…
THE SPACE BETWEEN US
#1 Booksense Pick
San Francisco Chronicle Bestseller
Borders Book Club Selection
Books-a-Million Fiction Club Selection
THE WEIGHT OF HEAVEN
Best Fiction Books of 2009 by the Christian Science Monitor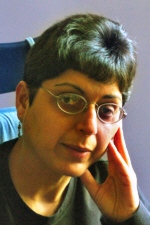 Thrity's website...
The Books
Additional Author Info