Patricia Hampl
About…
Patricia Hampl first won recognition for A Romantic Education, her memoir about her Czech heritage, which was awarded a Houghton Mifflin Literary Fellowship in 1981. A new edition, with a post-revolution afterword, appeared in 1992. She also has two collections of poetry, Woman before an Aquarium, and Resort and Other Poems. In 1987 she published Spillville, a meditation on Antonin Dvorak's summer in Iowa, with engravings by Steven Sorman. Virgin Time, a memoir about her Catholic upbringing and an inquiry into contemplative life, was published by W W Norton in 1992 (paperback Ballantine, 1993. In 2001, Resort and Other Poems was reissued by Carnegie Mellon University Press, as part of their Contemporary Classics series in American poetry.
In 1999, W.W. Norton published her book, I Could Tell You Stories: Sojourns in the Land of Memory, as well as a new edition of A Romantic Education with a new "Afterword" in honor of the tenth anniversary of the Velvet Revolution. I Could Tell You Stories was a finalist in the National Book Critics Circle Awards in the category of General Nonfiction in 2000.
Her fiction, poems, reviews, essays and travel pieces have appeared in many publications, including The New Yorker, Paris Review, New York Times Book Review, Ploughshares, Antaeus, Granta, American Poetry Review, Iowa Review, Ironwood, Ms., Best American Short Stories, Los Angeles Times, The Sophisticated Traveller, and Kenyon Review.
Patricia Hampl has received fellowships from the Guggenheim Foundation, Bush Foundation, National Endowment for the Arts (twice, in poetry and prose), Ingram Merrill Foundation, and Djerassi Foundation. She was Benedict Distinguished Visiting Professor of Literature at Carleton College, Fall, 1987; Emens Distinguished Professor at Ball State University, Spring, 1989; and Distinguished Visiting Professor of Writing at the University of Iowa, Spring 1994. She was a resident fellow at the Bellagio Study Center of the Rockefeller Foundation in Bellagio, Italy, Fall 1991. She has received honorary doctorates from the College of St. Catherine, the University of St. Thomas, and Luther College. Her last three books have been named "Notable Books" of the year by The New York Times Book Review. In 1990 she was awarded a MacArthur Fellowship.
Her short story "The Bill Collector's Vacation," was awarded a 1999 Pushcart Prize. Her essay, "A Week in the Word," is included in Best American Essays 1999. Another essay, "Other People's Secrets," apears in the Pushcart Prize anthology for 2001.
Her readings and lectures include recent visits to Sarah Lawrence College; the Universities of Salzburg, Graz and Vienna; Charles University, Prague; University of Montana; University of Texas-El Paso; University of California-Davis; Framingham State University, MA; Academy of American Poets, New York; University of Arizona; University of Alaska. She was Strum Distinguished Visiting Writer at West Virginia University, Fall, 1995.
Patricia Hampl is the editor of Burning Bright, an anthology of sacred poetry of the West (Judaism, Christianity, and Islam) from Ballantine Books (1995). She is the editor as well of The Houghton Mifflin Anthology of Short Fiction (1989). She has written the screenplay for a feature film of Spillville (Robin Burke Productions).
In 1995 she was a Fulbright Fellow in Prague, Czech Republic. Patricia Hampl is Regents' Professor and also McKnight Distinguished Professor at the University of Minnesota in Minneapolis where she teaches in the MFA program of the English Department. She is also on the permanent faculty of The Prague Summer Seminars. In 1995 and 1996 she was on the faculty of the Breadloaf Writers Conference to which she returned in 1999 and 2000. She is co-editor with Carl Klaus of the newly established Iowa Non-Fiction Series from the University of Iowa Press. During spring semester 2001, she was a Fellow at the Camargo Foundation, Cassis, France.
She is currently completing a memoir about her parents called THE FLORIST'S DAUGHTER and has completed BLUE ARABESQUE, a nonfiction book about Matisse and his near obsessive painting of odalisques while he lived in the south of France. A piece from this work appeared in Granta and was later selected for Best American Spiritual Writing, 2005. Both books are under contract to Harcourt.

Awards and Special Recognition…
PATRICIA HAMPL
Member of the American Academy of Arts and Sciences
BLUE ARABESQUE
The New York Times Notable Books of 2006
Los Angeles Times Best Books of 2006
St. Paul Pioneer Press Best Books of 2006
Minneapolis Star Tribune Best Books of 2006
Chicago Tribune Best Books of 2006
THE FLORIST'S DAUGHTER
Chicago Tribune Best Books of 2007
The New York Times Notable Book of 2007
Christian Science Monitor's "2007 Books We Liked Best" list.
Newsday Favorite Books of 2007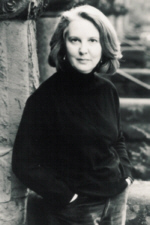 The Books
Additional Author Info