Pat Conroy
About…
Pat Conroy uses stories to explore the great themes of life. His honesty and his remarkable command of the language of the heart have won him devoted readers around the world.
Here,  in his own words, Pat tells us why he writes…
"From the very beginning, I wrote to explain my own life to myself, and I invited readers who chose to make the journey with me to join me on the high wire. I do not record the world exactly as it comes to me but transform it by making it pass through a prism of fabulous stories I have collected on the way."
— From Why I Write: Thoughts on the Craft of Fiction
"I wanted to become the seeker, the aroused and passionate explorer, and it was better going at it knowing nothing at all, always choosing the unmarked bottle, always choosing your own unproven method, armed with nothing but faith and a belief in astonishment."
— From The Lords of Discipline

See this lovely video clip of Pat and  Carol from  1955 – Narrative is in the clip

Pat Conroy died on March 4, 2016 of pancreatic cancer in his lowcountry home surrounded by family and friends. He was 70 years old. His legacy survives in his books and in Beaufort, SC at The Pat Conroy Literary Center where his love of story, his love of teaching and his courage as a writer and enthusiastic supporter of other writers lives on.

Awards and Special Recognition…
PAT CONROY
2009 South Carolina Hall of Fame inductee
2006 Southeast Library Association, Outstanding Author Award
2005 F. Scott Fitzgerald Award
2004 Georgia Writers Hall of Fame
2003 Southern Independent Booksellers Alliance (SIBA) Book of the Year Award
2002 South Carolina Order of the Palmetto
1996 Georgia Commission on the Holocaust, Humanitarian Award
1995 The Thomas Cooper Medal for Distinction in the Arts
1993 American Academy of Achievement, Golden Plate Award
1988 South Carolina Academy of Authors inductee
1974 National Education Association, special citation
Honorary Doctorate Degrees
2000 The Citadel
1997 University of South Carolina
THE PAT CONROY COOKBOOK
Publishers Weekly Best Books of 2004
MY LOSING SEASON
New York Times Bestseller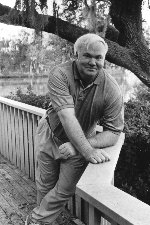 Pat's website...
The Books
Additional Author Info