Kwei Quartey
About…
When I was growing up in Ghana, books of all kind were abundant at home. My parents were university lecturers who had large collections of fiction and nonfiction. Bookworm that I was, I spent long Saturday hours browsing the university bookshop and expanding my own book collection. Life on the campus was culturally diverse and in many ways idyllic.
My African-American mother and Ghanaian father both did their own writing, primarily academic. My own love was fiction. I devoured novels, sometimes two in a day if they were an easy read. I wanted to be a writer long before my ambition turned to my current profession of medicine. When I was about eight years old, I wrote three short novels bound with staples and illustrated cardboard covers. The first of these novels was modeled on Edgar Rice Burroughs's Tarzan. Another was about a troupe of five children who made it their business to solve pesky local crimes. Last came the adventures of Eddie Rheingold, a wisecracking private detective disliked equally by the police and criminals he was constantly outwitting. My childhood attraction to detective stories and thrillers persists to this day. I loved reading Conan Doyle, but I read others including Henry James, Joyce Cary, Kingsley Amis, V.S. Naipaul, John le Carré, James Thurber, and Chinua Achebe.
Due to time constraints, my writing had to be put on hold during medical school and residency, but once those years were over, I renewed my interest and began writing again. Culminating my lifelong interest in detective stories, my first full-length novel, Wife of the Gods, draws on both my medical training and my memories of Ghanaian folklore and tells the story of a rural murder investigation that ultimately turns into a clash of cultures. Although novels are what I like to write most, I have also written two feature length screenplays, one of which placed at a finalist at the 2002 Moondance Film Festival in Boulder, CO.
I currently live in Pasadena, California. I write early in the morning before going to work at the clinic and am already working on my next novel.

Awards and Special Recognition…
SLEEP WELL MY LADY
2020 – Short Listed for Edgar Award
2021 – Amazon Best of the Year, in Mystery, Thriller, Suspense
MURDER AT CAP THREE POINTS
An ABA Indie Next Selection
WIFE OF THE GODS
2009 – Essence Magazine June 2009 Book Of The Month pick
2009 – Los Angeles Times Bestseller List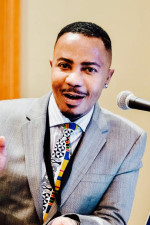 Kwei's website...
The Books
Additional Author Info