Chandra Prasad
About…
Chandra Prasad's first young adult novel, Damselfly, was published by Scholastic in March 2018
School Library Journal says, "Prasad's [YA] debut is a compelling modern-day adventure," while Booklist hails it "a compulsive read."  Damselfly is currently being implemented in middle school and high school curricula across the country as a modern "parallel read" with Lord of the Flies.
The author previously wrote novels for adults, including On Borrowed Wings, which was a Connecticut Book Award finalist.  Her other novels include Death of a Circus, which Booklist calls "richly textured [and] packed with glamour and grit," and Breathe the Sky, a fictionalized account of Amelia Earhart's last days.  Wally Lamb writes, "Breathe the Sky brings us into Amelia Earhart's cockpit and her psyche. From lift-off to landing, [this] is a novel that soars."
Prasad is also the originator and editor of—and a contributor to—Mixed, the first ever anthology of short stories on the multiracial experience, which was published to international acclaim by W.W. Norton and which is taught in a number of high schools and colleges.  Contributors to Mixed include Rebecca Walker, Danzy Senna, Ruth Ozeki, and Mat Johnson, among other luminaries.  Prasad's shorter works have appeared in The Wall Street Journal, The New York Times, The New York Times Magazine, The Week, the official magazine of The U.S. Department of State, Teen Voices, and numerous literary, arts, and poetry journals.
Prasad is a graduate of Yale and a Fellow at one of Yale's residential colleges.  Currently, she is working on additional young adult novels.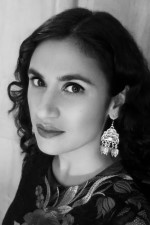 The Books
Additional Author Info