In the spring of 2004, Robert Alexander took some time to talk with us about some of his favorite books, authors, and interests.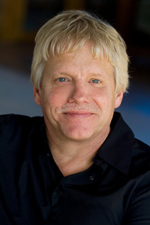 What was the book that most influenced your life or your career as a writer — and why?
The book that had the most impact on my writing career was, I'm sure, John LeCarré's The Spy Who Came in From the Cold. Not only does it convey a remarkable idea with an economy of words, it's a vivid lesson in the elements of any great book — tension, pace, and plot. More precisely, from it I learned that to write a book you not only have to have an original idea, but also a compelling plot to propel that idea. When those two are combined with equal force, you get a great book.
What are your favorite books, and what makes them special to you?
The Secret Life of Bees by Sue Monk Kidd is my favorite book in the last five years. Not only did I love the atmosphere and the setting, I loved the depth of humanity that emanated from every page as well as from the story itself.
Middlesex by Jeffrey Eugenides is my favorite book in the last year. I mean, how did that guy do it? It's so twisted and so wonderful. How could he write a book about family incest and make it so compassionate, so sympathetic, and even so entertaining? What a talented writer… if I'd attempted something like that it would have been a real clunker.
By far and away Nicholas and Alexandra by Robert Massie had the biggest impact on the course of my life because it set me on a track of all things Russian. Soon thereafter I started studying Russian, which led to my studying at Leningrad State University. That paved the way for my working for the US government in the USSR. And it was while I was working in the USSR that I was followed by the KGB, which gave me the idea for my first published book. Because of that, I've often said that I owe my writing career to the KGB. In truth, though it doesn't have such a zippy ring, I suppose I owe my writing career to Robert Massie.
What probably put me more at peace than any other book was Janet Woititz's Adult Children of Alcoholics. How come I didn't know any of this stuff when I was a kid? How come the world didn't?
Back to Russia… I'm crazy about Edvard Radzinksky's book, The Last Tsar. Not only did he bring together so many bits of information on the Romanovs, he did it in such a Russian manner. And that's important because I think we make a tremendous mistake in trying to understand Russia in a Western sense, when in fact it's as much, if not more, Eastern.
And still in Russia… I love Ayn Rand's We The Living, which she said was as close as she would ever write to an autobiography. It's tremendously evocative of the chaos of the Russian Revolution. And in fact I like this the best of all Rand's books because it's the least didactic. In other words, the story delivers the point, rather than being hit over the head as the reader is in some of her later works.
Anne Rice's Cry to Heaven is another book that I still carry with me. Set during the time of Vivaldi and the castrati in Venice, it spins a mesmerizing tale — very evocative of the beauty and cruelty of life.
As for crime novels, I love the work of Michael Connelly, Ellen Hart, and I particularly enjoyed Val McDermid's A Place of Execution. Books by these authors always keep me engaged, curious, and, most important in the mystery/thriller field, entertained.
Yikes, what else? Everything written by Hemingway, especially For Whom the Bell Tolls. Steinbeck, too, of course; particularly The Grapes of Wrath. Anna Karenina by Tolstoy.
Simply, I've always felt that for a book to work, it has to resonate for the reader, it has to strike some familiar cord and perhaps, hopefully, shed a light of understanding on the human condition. Either that, or it's just got to help you escape, take you on a ride. And all of the above books have done either or, in some cases, both for me.
What are some of your favorite films, and what makes them unforgettable to you?
Oh, I'm terrible at this name stuff. I loved American Beauty because it so deftly portrays the layers of truths that people keep. And I love epics like Dr. Zhivago or, more recently, Indochine — from them I took a better scope of the human condition. Best in Show made me laugh and laugh and forget about how many pages I had to write the next day. Conversely, Adaptation is so good that it drove me crazy because I just kept thinking: This is my life, I live this stuff, why do I need to watch it? I also loved North by Northwest and Chinatown, of course, because they were both so expertly structured.

What types of music do you like? Is there any particular kind you like to listen to when you're writing?
Eighty beats a cycle. I don't know what that means, actually, but I know it's the best for a writer to listen to while working. Bach's Goldberg Variations is the prime example of that. I can put that on repeat, listen to it for a month, and write and write. Without fail, it always makes me more productive. My neighbors must think I'm crazy, but I have to have music that I can't listen to. In other words, I'm always looking for music that creates the "Highway Hypnosis" effect, something slightly repetitive, nothing too engaging, yet always evocative — in other words, music that makes the checkbook side of my mind run screaming so that the creative side can step forward.
If you had a book club, what would it be reading — and why?
Oh, you don't want to hear this: I'd never have a book club. And I'd never be in one. That's like working in a bank all day and coming home and having an accounting club, or a chef being in a cooking club (well, actually, that might be kind of fun), or an architect being in a club that studies blueprints.
I've been in writing groups, which are spectacular — we pass our manuscripts around, talk, comment, critique. But that's work. In other words, at a certain point you gotta give it a rest. Which is why I love reading magazines and newspapers and going out for dinner and seeing movies and taking walks. Sadly, writing has ruined my reading because I'm always going, like, why did he break that paragraph there, why is she so good at atmosphere, I would have done it this way or that way….
But, at the same time: I'm nothing without book clubs. I speak to them all the time. And I love them. And I've been recommending The Secret Life of Bees, Middlesex, and, well, a few obscure biographies on Rasputin (the last of which doesn't get many takers). I recommend these books to book clubs because their stories lingered long after I'd turned the last page.
If you could choose one new writer to be "discovered," who would it be — and why?
Balzac. He's so old he's new again.
What are your favorite kinds of books to give — and get — as gifts?
Historicals, of course. Thrillers. Books on how to build stone walls. Travel books. Cook books. I love books that both entertain and educate. And I love to make stuff and figure everyone else does too. Actually, I think the book I gave someone on stone walls was the only gift I've ever given that has been regifted….
Do you have any special writing rituals? For example, what do you have on your desk when you're writing?
I always have a cup of coffee on my desk and a dog on the floor. Also: music that seems appropriate for that book and which I can stomach to listen to for months, because I'll do exactly that, put it on repeat, day in, day out. And it's gotta be nine o'clock, not earlier.
Many writers are hardly "overnight success" stories. How long did it take for you to get where you are today? Any rejection-slip horror stories or inspirational anecdotes?
I've been around the block so many times I'm dizzy. My first two books are unpublished (which is a good thing), and I've worked with over fifteen editors (which is a bad thing). The Kitchen Boy was literally twice as long when I first sent it out — and it was promptly turned down by 15 publishers. As soon as I cut out a mystery in the present and focused on that amazing story in the past, it sold right away. I wish I could say it only gets easier — but the best thing I can say is that I've met a lot of wonderful people along the way.
What tips or advice do you have for writers still looking to be discovered?
Write for yourself. Draw from there, right from your heart. Of course, if you want to be published you have to write something compelling, so don't forget pace, plot, tension. You have to give the reader a reason to turn the pages. But if you have the nerdy ability to finish what you start and the compulsive ability to look at something and just keep asking "what if?" then I'm sure you'll create something publishable.