Tomas Halik
About…
Philosopher, priest, academician, writer
Professor at Charles University in Prague, Faculty of Arts
Visiting Professor at Cambridge University in Great Britain
President of the Czech Christian Academy
University Chaplain at Salvator University Parish in Prague
Born on June 1, 1948 in Prague. He studied sociology and philosophy at Charles University in Prague, Faculty of Arts (PhDr 1972), and attended a course at the University of Wales in 1968 in Great Britain. In the 1980s he completed a post-graduate course in clinical psychology and became a licensed psychotherapist. He studied theology and religious studies clandestinely in Prague and after 1989 undertook a course of post-graduate study at the Pontifical Lateran University in Rome, obtaining a licentiate in theology (Th.Lic.). and in 1993 in Wroclaw (ThD).
During the Communist period, he was banned from university teaching. He worked as a psychotherapist for alcoholics and drug addicts at the Detoxification Clinic of the University Hospital in Prague. In October 1978 he was secretly ordained as a Catholic priest in the German Democratic Republic. Before 1989 he was active in the so-called "underground church" and in the 1980s was one of Cardinal Frantisek Tomasek's closest associates. He was actively involved in clandestine seminars in private homes, published in samizdat and helped to publish illegal philosophical and theological books and journals. He also co-operated with the future President, Václav Havel, and other dissidents. Only after the fall of communism in 1989 he was allowed to public sphere at University and church, to publish books and travel to the West.
Between 1990-1993 he served as General Secretary to the Czech Conference of Bishops, and was appointed an adviser of Pontifical Council for Inter-religious Dialogue in Vatican. Since the mid-nineties, he has been involved in international efforts to promote dialogue and understanding between religions and cultures, taking part in talks with Jewish thinkers in Israel and the USA, with Hindus in India and Great Britain, with Buddhists in Nepal, Japan and Thailand, with Muslims in Egypt (University in Al Ajar, Cairo) and Jordan. He is a member of the Society of Christian and Jews, a member of committee of the Forum 2000 conference with particular responsibility for inter-religious relations. He was in close association with Pope John Paul II.; with Brother Roger Schutz, founder of Taize; Tibetian Dali Lama, etc.
Since 1990 he has lectured at Charles University in Prague, at the Faculty of Theology and the Faculty of Arts. He was appointed a full-tenure professor of Sociology at Charles University in 1997. He has also lectured at a number of Universities and international conferences in Europe (Rome, London, Cambridge, Vienna, Munich, Salzburg, Graz, San Sebastian, Palermo, Lublin, Paris, etc.), in India (Madras, Bombay), in China and Taiwan, Latin America (Chile, Argentina).
In 1996 he was awarded a funding in order to study and lecture at American Universities through the Acton-Institute program ("For Future Leaders"); in 1999 he served as a guest lecturer at University of Pittsburgh, the Institute of International Political Studies; in 2001 he delivered the annual January lecture at Calvin College in Michigan. In the autumn term of 2001 he was visiting fellow at Oxford University and in autumn term of 2003 at Cambridge University. In January 2002, he took part in an Antarctic expedition to research survival in conditions of extreme mental and physical stress.
In the 1990s he served as one of President Vaclav Havel's external advisers. In 1998 Vaclav Havel indicated in Czech media that Tomas Halik is an eligible candidate for Havel's successor in the office of Czech President. However, Halik refused any active involvement in the politics and decided on continuing with his work as an academician, priest and writer.
In 1998 he was named a member of European Academy of Sciences and Arts, he has been a member of member of International Advisory Panel OSCE since 2002; in 2006 he was appointed a member of the Committee of Wise Persons at COMECE, Brussels, which discusses the issues of European integration.
He was awarded the Prize of the Masaryk Academy of Art for his creative activity in 1997. In 2003 he was granted the Andrew Elias Human Tolerance Award for exceptional qualities of humaneness, compassion and tolerance. In 2003, the Austrian foundation "Communio et Progressio" awarded him the Cardinal König Prize for his defense of human rights and spiritual freedom. In 2006 he received a highly prestigious award for literature from the Literary Fund of the Czech Republic for the Confessor's Night.
He has published a number of books that received attention from public as best-sellers. Some of them have already been published in German, Polish, Italian and Spanish. Besides, he is an author of numerous publications, articles and teaching texts both specialized and for the general reader, published at home and abroad.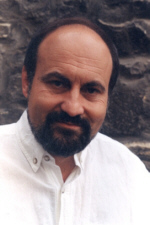 The Books
Additional Author Info