Tom Roston
About…
Tom Roston is a New York City native and veteran magazine journalist who started his career at The Nation and Vanity Fair before working for ten years at Premiere magazine, where he was a Senior Editor. Since then, he has written regularly for The New York Times, Salon, The Hollywood Reporter, and many other outlets, including a regular blog about documentary film for PBS.org.
Roston wrote I Lost It At The Video Store, one of Kirkus's "Best Indie Books of 2015," which features extensive interviews with directors such as Quentin Tarantino, David O. Russell and Kevin Smith.
Roston lives in Brooklyn with his wife and their two daughters.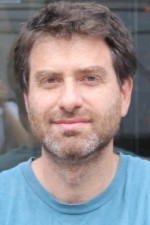 The Books
Additional Author Info