Michael Stanley
About…
Michael Stanley is the pen name of Michael Sears and Stanley Trollip.
Michael Sears was born in Johannesburg, and grew up in Cape Town and Nairobi, Kenya. In the worst of the apartheid era, his family emigrated to Australia, where he completed a doctorate in dynamical systems. But Africa drew him back in 1972, and he accepted a position at the university in Johannesburg where he specialized in applications of mathematics in a variety of areas including image analysis and ecological modeling. This led to many fascinating projects, one of which involved radio-tracking hunting lions through the Botswana night. Another was a system model for the Kalahari Gemsbok National Park.
While Dean of the Faculty of Science at the University, he focused on working with black students and encouraging them into science careers. This period also enabled him to make contacts with the historically black Southern African universities.
In 1997 he accepted a position managing remote sensing at Anglo American, a major international mining house. Its associate – the diamond giant De Beers – has extensive interests in Botswana through the Debswana joint venture with the government. The mining and exploration threads in the book draw on experiences gained in this context.
While Michael Sears has traveled widely in Southern and Central Africa, Botswana, with its magnificent conservation areas, dramatic scenery, and varied peoples, has always been a special favorite of his. Although he still lives in Johannesburg, his mind is often in the African Bush, and the rest of him follows as often as possible. He has long-held an ambition to capture the flavor of the country on the canvass of a novel. And now, along with coauthor Trollip, Sears has done just that in A CARRION DEATH: A DETECTIVE KUBU MYSTERY, his first work of fiction.

Stanley Trollip was born in Johannesburg where he was schooled from childhood to his university degree in Statistics. His undergraduate time was checkered, taking twice as long as usual, mainly due to participation in a variety of sports (cricket, rugby, and field hockey), editing the student newspaper, and involvement in the anti-apartheid movement. In 1971, he attended the University of Illinois Urbana-Champaign where he received a PhD in Educational Psychology, with an emphasis on how computers could facilitate teaching and learning. Since 1976 he has been a professor or a consultant and was until recently Director of Learning Strategies at Capella University, an on-line University. These studies lead to a book project; Trollip co-authored a very successful textbook: Multimedia for Learning: Methods and Development (Allyn and Bacon).
Trollip, who holds a variety of pilot's licenses, lectures frequently on the topic of aviation safety. He co-authored one book on the subject, Human Factors for General Aviation (Jeppesen) and was principal author on several others for Transportation Canada, all published without attribution.
With coauthor Michael Sears, Trollip has enjoyed flying safaris to Botswana and Zimbabwe. They have had many adventures together, including tracking lions at night, fighting bush fires on the Savuti plains in northern Botswana, being charged by an elephant, and having their plane's door pop open over the Kalahari, scattering their navigation maps over the desert. These wonderful times have fed his love for the bush, as well as for Botswana.
Stanley Trollip, still an active small-plane pilot and now nearly a full-time writer, is currently learning to paraglide. He divides his time between South Africa and Minneapolis, Minnesota. Trollip is currently busily at work with Sears on their second Detective Kubu novel.

Awards and Special Recognition…
A CARRION DEATH
Barnes & Noble "Discover Great New Writers" Selection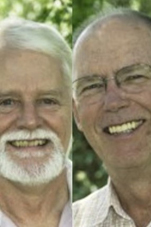 The Books
Additional Author Info