Jeffrey Hantover
About…
Jeffrey Hantover's life in the worlds of art and social service has taken him far from his Midwestern roots. Born and raised in Kansas City, Missouri, he graduated Harvard College, attended the John F. Kennedy School of Government and received a Masters in Sociology of Education and a Ph.D. in Sociology from the University of Chicago. His life in sociology and social service includes a teaching stint at Vanderbilt University, academic articles on the social construction of masculinity, seven years as the first executive director of the largest social service accrediting organization in North America, senior management positions in labor rights and corporate social responsibility for Gap Inc. in Asia and the U.S., and consultation to major corporations and non-profit organizations on labor rights, HIV/AIDS and criminal justice reform.
He moved to Hong Kong in 1989 where he wrote extensively on art and culture for publications in the United States, Europe and Asia, on varied topics – street food in Malaysia, architectural preservation in Singapore, the making of a Bruce Lee bio-pic and the cutting edge art of China. Having been introduced to the world of contemporary Vietnamese art in the early 1990s, he wrote the catalogue for Uncorked Soul: Contemporary Art from Vietnam, the first major exhibition of Vietnamese painting outside the country, the catalogue essay for the Smithsonian's exhibition of Vietnamese and Vietnamese-American art, An Ocean Apart, and the text for A World of Decent Dreams: Vietnam Images published in 2003.
He returned to New York in 2001, where he lives with his wife and daughter.

Awards and Special Recognition…
THE JEWEL TRADER OF PEGU
Barnes & Noble "Discover Great New Writers" Selection
Borders Original Voices Selection
Booksense Pick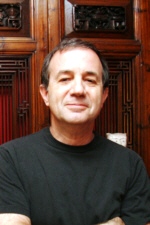 Jeffrey on Goodreads...
The Books
Additional Author Info