George Bishop, Jr.
About…
George Bishop, Jr. graduated with degrees in English Literature and Communications from Loyola University in New Orleans before moving to Los Angeles to become an actor. After eight years of commercials, stage plays, guest starring roles in TV sitcoms, and the lead in a B-movie called Teen Vamp, he traveled overseas as a volunteer English teacher to the newly independent Czechoslovakia.
He enjoyed the ex-pat life so much that he stayed on, living and teaching in Turkey and Indonesia before returning to the States to earn his MFA in Creative Writing at the University of North Carolina in Wilmington, where he studied under Clyde Edgerton, Wendy Brenner, and Rebecca Lee.
After several years teaching at UNCW, he moved back overseas, first on a fellowship with the Open Society Institute in Azerbaijan, then with the US State Department's Office of English Language Programs in India.
His stories and essays have appeared in publications such as The Oxford American, The Third Coast, Press, American Writing, The Turkish Daily News, The Caspian Business News, and Vorm (in Dutch).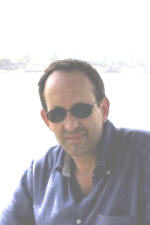 George Bishop, Jr., website...
The Books
Additional Author Info