Ellington/Triplett
About…
Sara Ellington (on the right) is the co-author of The Mommy Chronicles: Conversations Sharing the Comedy and Drama of Pregnancy and New Motherhood (Hay House, 2005) with Stephanie Triplett. Sara is also co-host of The Mommy Chronicles Show, a weekly talk radio show for moms on Hay House Radio, and the co-producer of The Mommy Chronicles Cast, a podcast available on iTunes.com.
She is the mother of two children, a daughter, Anna and a son, Cade. After the birth of her first child, she went through a difficult battle with postpartum depression, which she writes about candidly in The Mommy Chronicles. Sara believes it is important to share her story to help other women who may be suffering know that they are not alone, and to empower them to get help.
In addition to being an author, mother and wife, Sara is a freelance writer. Her work has appeared in Charlotte Ventures magazine, the Mothers & More national newsletter, Forum, and in a NASCAR television pilot. Before becoming a mother, she worked as a copywriter for advertising agencies in Virginia and North Carolina. Her advertising work has appeared in The Wall Street Journal, Southern Living, and The Charlotte Observer. She recently won an ADDY for her work for Crescent Communities Inc., a Duke Energy company. Sara continues to write for many of her clients at her home office.
Prior to her career in writing, Sara spent five years as an account executive at Seko Air Freight where she was consistently ranked one of the top five salespeople in the United States. Sara has a Bachelor of Arts in Marketing from Lynchburg College in Lynchburg, Virginia as well as a Bachelor of Arts in English from the University of North Carolina at Charlotte.
Sara lives in Charlotte, North Carolina with her husband, David Behnke, and their two children.

Stephanie Triplett has more than 20 years experience in the marketing and advertising arena. She graduated from East Carolina University with a Bachelor of Science degree in Marketing and Merchandising. Stephanie was working with the Disney/ABC Family cable television network in Atlanta when she left her professional life to raise her two children, Sara and Timothy. She has also worked for newspapers, advertising agencies, cable television networks, and even a veterinary hospital. Stephanie has managed the marketing and promotion of everything from television shows and sunblock, to gas pumps and dog vaccines. These experiences gave her the skills to become a copywriter.
Stephanie currently lives in the Atlanta area where she started Writer's Block, a small marketing and copy writing business. She is an involved mother, volunteering at her children's school each week, chairing a PTA committee, and working in the school library. Like most moms, she spends too much time in the car, shuttling her children from ballet to cheerleading to T-ball. Stephanie co-hosts a weekly radio show for moms, but is committed to putting family first, realizing that being an ordinary mom makes her more valuable to her mom-listeners. She spends her free time reading, writing, playing tennis with her neighborhood team, and dreaming about the day she'll have time to go back to the gym. The Must-Have Manual for Moms from Sara and Stephanie (Random House, 2008) is her second book.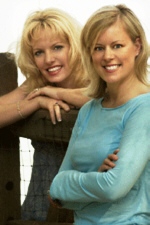 Sara Ellington on Penguin Random House...
The Books
Additional Author Info