Caroline Stoessinger
About…
Caroline Stoessinger, a pianist, has appeared on the stages of Carnegie Hall and Lincoln Center and for twenty-five years has performed with the Tokyo String Quartet and the Brooklyn Philharmonic Orchestra. Stoessinger produced the televised dedication of the Schindler violin at the U.S. Holocaust Memorial Museum and the first New York production of Brundibár. She has played in concert halls from Tokyo and Prague to Spillville, Iowa, and for many years served as the artistic director at the Cathedral of St. John the Divine. She is artistic director of chamber music at the Tilles Center, artist-in-residence at John Jay College, director of the Newberry Chamber Players at the Newberry Opera House, and founder and president of the Mozart Academy. She lives in New York City.

Awards and Special Recognition…
CAROLINE STOESSINGER
The Norman Mailer Commendation for "Preserving the history of our time" received  April 30, 2012 at The National Arts Club.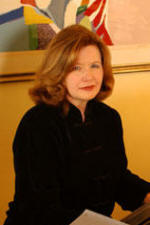 The Books
Additional Author Info